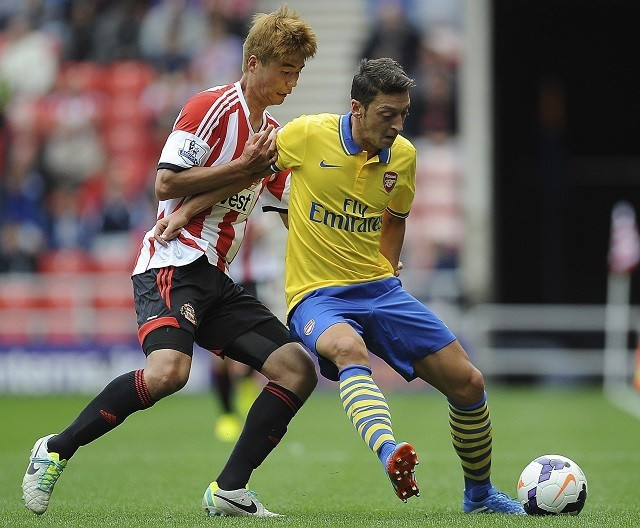 Mesut Ozil has revealed that Arsene Wenger's influence is the ultimate reason behind him choosing Arsenal over a myriad of other clubs interested in his services.
The German playmaker made a deadline day move to Arsenal for a record fee of £42.5m which broke the Gunners' transfer record three times over and made him the costliest German in Europe. His addition has boosted the mood in the squad and the Gunners are yet to lose a game with Ozil in the side after a dismal start to their campaign where they lost 3-1 to Aston Villa at home.
Ozil's inclusion has brought the best out of everyone, with Olivier Giroud already banging in four goals in the league along with Aaron Ramsey who has been the best player by far this season. However, the German, who turned 25 on Tuesday insists that he made the switch from Real Madrid to train under the guidance of Arsene Wenger and become a better player.
"I chose Arsenal because they are one of the top clubs in England. The coach is a world-class manager - he has demonstrated that for years. A lot of players have developed under his guidance in the past and that's why I decided to come here. I want to improve further. Arsenal are well known for the strength of their technical game and their desire to play attacking football, and I think I will fit perfectly into that," he told the Arsenal Magazine.
"The most important thing is that the manager has given me his trust. I want to show my potential and have fun on the pitch. I think that I can help the team through my performances," he added.
The German schemer insisted that he is the sort of player who likes to create goals and his tally of assists over the last few seasons is among the best in Europe. The player is already the leading assist maker in the Premier League and will only get better as he gets habituated to his new surroundings.
"Assists lead to success and I'm the sort of player that likes to create goals. I think a lot of my team-mates know me as a player who is not selfish. It makes me very happy when I create goals or score goals myself. But the most important thing is that the team reaches its goal and plays positive football," he concluded.