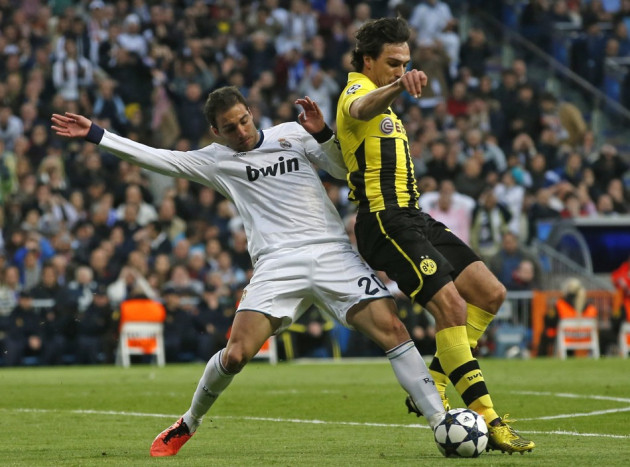 Arsenal are now facing competition from Napoli in their pursuit of Gonzalo Higuain as the north London club continue to delay on signing the Real Madrid striker.
Higuain appeared to be close to confirming a deal to join the Gunners in recent weeks with the 25 year old's own father revealing he would likely be playing in the Premier League next season.
But no such deal has been confirmed by the club and Arsenal have since made a bid for Luis Suarez worth £30m, more than what Higuain is believed to be valued at as Madrid look to offload the £27m-rated hitman.
Higuain's time at Madrid has seen him turn into a successful striker but politics at the club have often left him out of favour in the side's bigger games. His 18 goals last season have certainly placed him on the radar for a possible transfer and Arsenal fans have been hopeful that Arsene Wenger will get the deal done.
Tuttosport report that Napoli, in their search for a replacement for the Paris Saint Germain-bound Edinson Cavani, have turned their attentions to Higuain and could be set to make a bid that would blow the Gunners out of the water with some of the money they will take in from selling their star.
Cavani is set to be unveiled today at a PSG with the player costing the French outfit around £55m as they saw off competition from Manchester City and Chelsea.
As Rafa Benitez gets settled into the managerial post with Napoli he will have a large transfer kitty to play with and the side are believed to have pinpointed Higuain as the perfect replacement for Cavani.
The question is whether this will push Arsenal into action, with some theorising that the side had only bid for Suarez in a move to show they would go for other targets if Higuain wasn't offered to them at the right price.