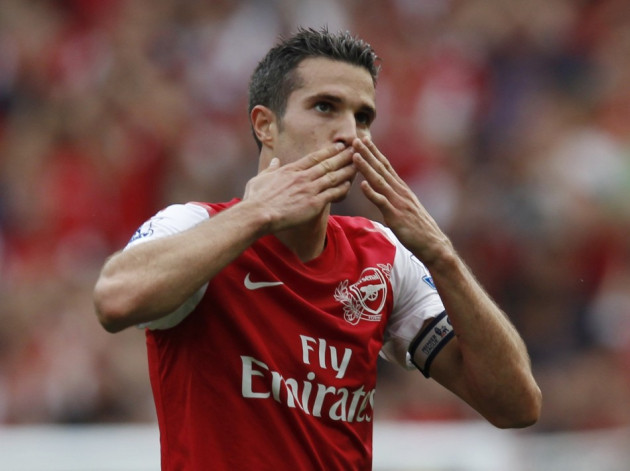 Arsenal are prepared to offer captain Robin van Persie an improved four-year contract to prevent the Dutch international leaving for a reduced fee next summer.
Van Persie will be offered £90,000-a-week to commit to the Gunners until 2017, as the club seek to avoid the uncertainty that surrounded the futures of Cesc Fabregas and Samir Nasri this summer.
Reports in Thursday's Express suggest chief executive Ivan Gazidis has instructed executive Richard Law to open negotiations with van Persie, Theo Walcott and Thomas Vermaelen, to prevent them being sold for a reduced fee next year.
However, van Persie has indicated he has no intention of discussing his future until the end of the season, saying "nobody knows" where his future lies.
The 28-year-old's current deal expires in 2013 but Arsenal are aware the player will attract a significantly reduced fee if he is allowed to enter the final 12 months without signing an extension.
"I am not going to make any statements about my future," he told the Sunday Mirror. "Not now, not for a while. I've been at Arsenal eight years and that is quite extraordinary these days, which is why I treasure this. What my future will bring, nobody knows.
"I can understand people are curious, but I am just dedicated to everything at Arsenal right now. My future is a private matter and, when at some point there could be some news, people will hear it," he added.
According to reports in today's Telegraph, Arsene Wenger faces "a £50m dilemma" over how he uses his transfer budget in January, with some of the money available to spend on new players likely to be used to secure contract extensions for key personnel.
The Arsenal manager has around £50m to spend between now and the end of the season, according to the club's annual accounts.
However, the Frenchman must decide how much money to allocate into wage increases designed to keep his star players at the club, and what to use on new signings.
Arsenal's poor start to the season has necessitated a dip into the transfer market in January, with at least one major signing planned.
Wenger is still keen on bringing a new central midfielder to the club, with French-based duo Yoan Gourcuff and Yann M'Villa under consideration, in addition to Borussia Dortmund's Mario Gotze.
Uncertainty surrounding van Persie's future means the Arsenal manager is also keen to bolster his forward line, with Lille's Eden Hazard and Porto's Hulk linked with the club in recent days.