Arsenal are considering signing Toulouse right-back Serge Aurier, according to the Express. The 20-year-old Ivory Coast-born defender moved to his present club from RC Lens in January last year and has one goal and two assists to his name from 15 Ligue 1 appearances this season. Aurier's present club are believed to be sticking to their asking price of £5m.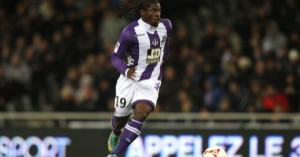 Arsene Wenger is likely to consider Aurier the perfect replacement for French international Bacary Sagna. The 29-year-old Gunner has only 18 months left on his present contract with the north London club and is reportedly stalling on an extension. It is understood the club is unwilling to add to the one-year extension at £60,000 per week that is on the table.
Sagna has also been linked with moves away from the Emirates, with Serie A club Inter Milan and Ligue 1 leaders Paris St Germain (PSG) believed to be interested.
The Gunners were also linked to Southampton wing-back Luke Shaw. However, the 17-year-old has rebuffed interest from Arsenal to sign a five-year deal at St Mary's.
Wenger Frustrated after City Defeat
Meanwhile, Wenger was left frustrated after Sunday's defeat to Premier League champions Manchester City. Roberto Mancini's side ran out 2-0 winners at the Emirates, with goals from James Milner and Edin Dzeko taking them back to within seven points of league leaders Manchester United.
The defeat leaves Arsenal sixth in the league, with only 34 points from 21 games. The Gunners are six points behind north London rivals Tottenham in the race for Champions League football next season, although they have a game in hand.
"It's not anger because the players want to do well. It's just the fact that we need to be a bit more confident in this kind of game. We want to do so well that we are a bit up tight. It's not anger, it's frustration that you do not see from the start what this team is capable of," Wenger told the club's Web site.
"Afterwards, you make it basically difficult for yourselves at 2-0 down with 10 against 11, it's massive. If we had taken 100 per cent of our chances we'd still have come back. Giroud had a header, Walcott had a chance. If we'd put it in, maybe. But it's too difficult," the 63-year-old Frenchman added.