Arsenal defender Bacary Sagna is reported to be deeply unhappy with the terms of a proposed contract extension, leading to speculation the 29 year old French international will leave the Gunners in the summer. The Daily Mail reports the right back has told team mates he feels "disrespected" and this will be his last season with the club.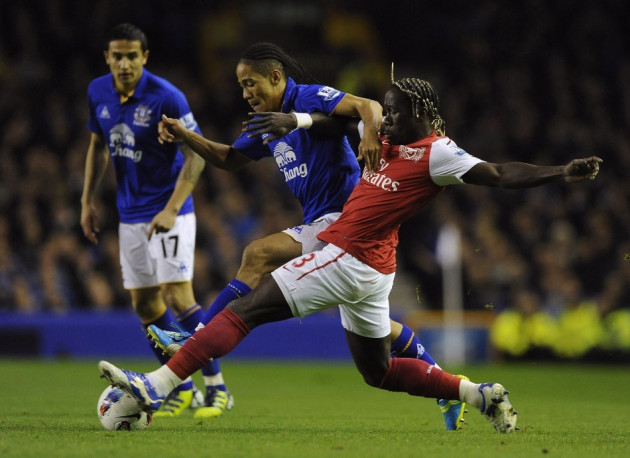 Sagna's present contract expires in 2014 and he has been offered a 12-month extension (taking the agreement to 2015) without a pay-rise; he is now paid £60,000 per week. The length of the contract is believed to be tied in to concerns over his fitness, after Sagna suffered two broken legs in the past year.
Contractual wrangles aside, Sagna's relationship with manager Arsene Wenger is believed to be deteriorating, after the former publically criticised the club selling Dutch striker Robin van Persie and Cameroon midfielder Alex Song in the summer.
The sale of last season's top goal scorer and most influential midfielder continued a trend of high-profile first team players departing the Emirates (following the exits of Spaniard Cesc Fabregas and Frenchman Samir Nasri). The rapid exits of so many stars - for reasons including the club's unwillingness to break its outdated pay scale and/or invest in big-money signings despite having the finances to do so - stirred up the anger of several supporters. And should Sagna and Arsenal find no common ground, the departure of the defender is unlikely to sit well with the club's fans.
Walcott to Add to Wenger Misery
Meanwhile, the Daily Mail's report adds that England international Theo Walcott is likely to compound the Gunners' contract problems, after refusing a five-year £75,000 per week offer. The 23 year old forward is out of contract in the summer and BBC Sport reported, earlier in the season, that the former Southampton youngster wants a salary in the region of £100,000 per week and to play as a striker. Another Daily Mail report suggested a compromise could be reached, with an £80,000 - £85,000 per week offer believed to be on the table but it seems such a deal is now unlikely.