Walcott Wants More: Gunners' Star Rejects New Deal
Arsenal winger Theo Walcott is stalling on signing a new contract. The English international has turned down a long term deal worth £75,000 per week and is demanding an increase to £100,000 per week. His present contract is worth £60,000 per week. The player's new demand will make the highest paid player in the team, following striker Robin van Persie's departure.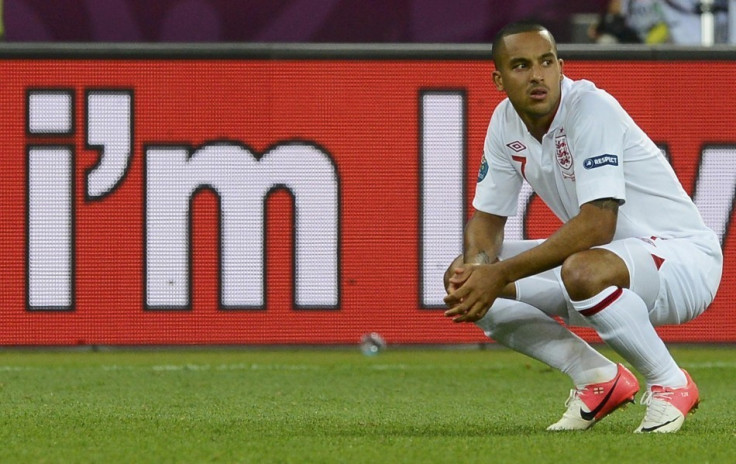 The Gunners have given their player a deadline to sign, failing which he is likely to be sold, as Arsene Wenger will probably decide to deal with him as he did van Persie - cash in before he leaves for free next summer. League champions Manchester City have reportedly shown an interest in the player, after talks over a move for Swansea City winger Scott Sinclair seem to have broken down over differences in valuation. Liverpool are also likely to be interested in Walcott, suggesting a bidding war for the player's services could start in these final few hours of the summer transfer window. Walcott is likely to be valued at £15m.
The 23 year old was one of the club's best performers last season, along with Cameroon international Alex Song and van Persie. He scored 11 times (second highest for the club, after van Persie's 30 mark) and created 13 other goals. Considering Wenger has already sold van Persie to Manchester United and Song to Barcelona, should Walcott leave the Frenchman will find himself having to ensure the bulk of those goals are provided.
However, Walcott has another choice to make - should he take a lower pay and remain a first team member at Arsenal or accept a higher salary and resign himself to being a squad player, or worse, at City. Roberto Mancini already has a number of options out wide, including Spain's David Silva and France's Samir Nasri. The only really strong contribution Walcott could make to Mancini's side is outright pace, something which, it could be argued, the champions lack somewhat. Liverpool will probably offer first team football but cannot offer Champions League football, either now or, if recent results are anything to go by, in the short-term.
Walcott has made a total of 222 appearances for the Gunners and has scored 42 times.
Meanwhile, Rennes's general manager, Pierre Dreossi, has claimed both Spurs and Arsenal have yet to make a serious bid for long-term target Yann M'Vila, despite reports to the contrary. Dreossi insisted that his club was in no hurry to sell their star and would love to hold on to him for as long as possible.
"We have had some contact, but not much more than that. Longer it drags on, the more we think he will (stay at the club).We are lucky to have a financial backer who has the means to wait another six months or a year (before selling). So if Yann has to stay, then good. We will be stronger with him," he said.
© Copyright IBTimes 2023. All rights reserved.