Former Arsenal striking legend Thierry Henry has agreed, in principle, to return to the Gunners for a second consecutive January loan spell. The report, made by Goal.com, says the ex-French international has confirmed to the north London club he will return, pending a settlement between the Premier League club and the forward's present employers, New York Red Bulls of the US' Major League Soccer (MLS).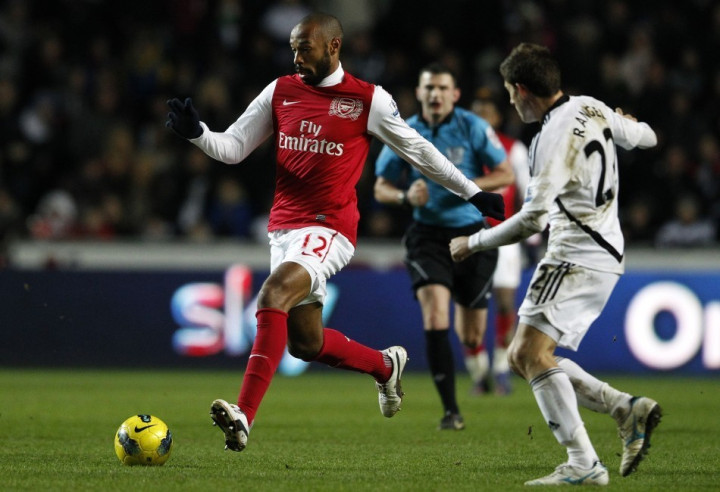 The 35 year old Frenchman left Arsene Wenger' side in 2007 and spent three seasons with Spanish giants Barcelona, where he won two La Liga crowns and the Champions League trophy that eluded him in England. The striker joined the MLS side in the summer of 2010 and won the MLS' Eastern Conference title the same season.
Henry's first loan spell with his former club, for whom he has scored a total of 228 goals in 377 appearances, was in the winter window last year. He was signed to provide temporary cover for Ivory Coast forward Gervinho and Moroccan striker Marouane Chamakh, while the two played for their respective countries at the African Cup of Nations (ACN). And with the 2013 edition of the tournament set to start in January, Wenger has previously admitted there was a strong possibility he would call on Henry again.
And now Goal.com reports negotiations between the Red Bulls and Arsenal are actually in an advanced stage and the two clubs hope to avoid medical or legal complications that delayed the same deal last season.
"He has been practising with us. Will I sign him again in January? I don't know. I don't rule it out. He is sharp. Last year I did it because we lost Gervinho. It was a good connection. This year we lose Gervinho again as they are playing in the Africa Cup of Nations two years in a row, so we will be confronted with a shortage," Wenger explained to the club's Web site earlier, adding, "Particularly if Chamakh should go. I cannot stand in his way. Then we will be short."
Wenger has been linked with a number of other strikers in the recent past, with Spanish striker Adrian Lopez of Atletico Madrid an example. Goal.com reported the £14.6m capture of Lopez was a real possibility in the January window but if Henry does make an appearance then it is likely the Gunners will hold off on striker purchases till the end of the season.