Arsene Wenger has revealed that Thomas Vermaelen's future at the club is secure in spite of failing to make it to the starting line-up in recent games. Per Mertesacker and Laurent Koscielny are the two players currently deputised to secure the Arsenal backline and have done a commendable job thus far, keeping an unbeaten run in the Premier League since their inclusion.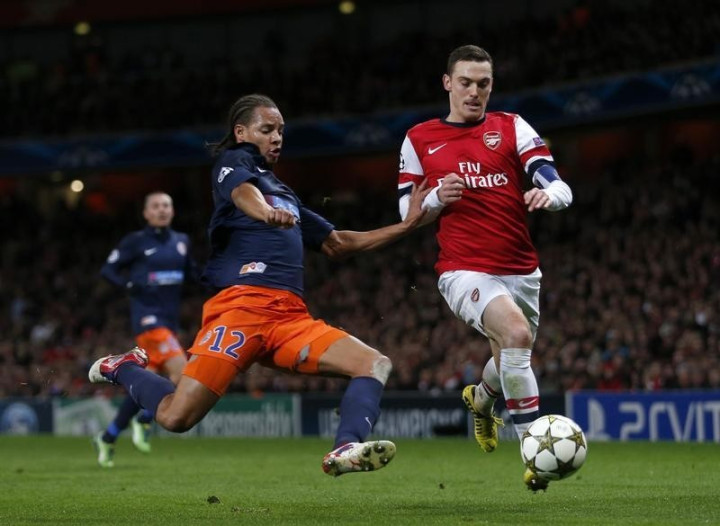 Vermaelen has started in only one game since March, in occasion of Mertesacker's suspension against Norwich, and was dropped to the bench in the next game. Vermaelen's sudden falling out with his manager has resulted in him being linked with a move out of the Emirates in the summer, with Spanish giants Barcelona reported to be interested.
Wenger is also reported to have opened talks with Swansea defender Ashley Williams for a move after the end of the season, but the Frenchman has dismissed talks of the same and insisted that the 27-year-old is still much in his plans.
"Thomas is one of the best defenders in England, like the two others. I told them at the start of the season we have three outstanding central defenders. It is about game by game that I make a decision, and it is about partnership as well. Vermaelen has been a substitute for quite a few games and he still plays a big part in the game. I don't see him as a substitute at all," Wenger said after their 1-0 win over Fulham in the weekend.
Ramsey on Defence
Arsenal midfielder Aaron Ramsey believes that Arsenal's success in the last few games is down to their improved defensive display. The Welshman believes that the Gunners are defending as a team lately and hailed the defensive stability provided by Mertesacker and Koscielny at the back.
"We're defending really well as a team. We're defending high up. Communication is good between the team and the two of them. Everyone is working for each other at the moment and I think everyone can see that. Fulham had a few corners, which they are normally quite dangerous on. We dealt with them and our centre backs made a lot of clearing headers. They were up for the battle and they topped off a good week for themselves," he told Arsenal's Official Website.