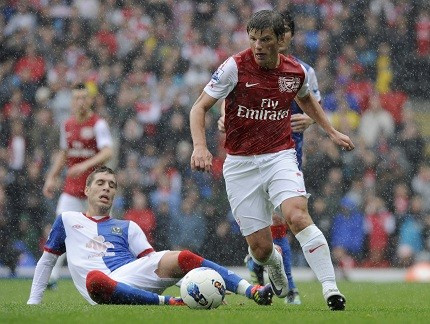 Arsenal midfielder Andrey Arshavin is reportedly closing in on a return to his former club Zenit St Petersburg, according to Russian newspaper Sport Express.
The 30-year-old has cut an increasingly peripheral role at Arsenal this season, and although Arsene Wenger has regularly defended the Gunners' record signing in light of his perceived poor form this year, the winger remains perennially associated with a move away from the Emirates.
According to the aforementioned source, the player is concerned over his sporadic first-team opportunities at Arsenal ahead of next summer's European Championship, and although he can understand Arsene Wenger's reasoning, the player is fearful he could miss out on Dick Advocaat's squad nonetheless.
The recent departures of Gervinho and Marouane Chamakh to the African Nations Cup, will inevitably aid his efforts to gain more opportunities but Sport Express intimate the Arsenal star is an £8 million target for his old team.
Arshavin arrived in England with a huge reputation in January 2009 following Arsenal's protracted pursuit of the Russian international, but his inconsistent form has endured throughout, mixing the sublime, when he scored four goals at Anfield, to the lacklustre.
The 30-year-old remains Arsenal's most expensive signing, yet by his own admission he has not quite hit the heights his form at Euro 2008 hinted at.
"Speaking honestly, I think my performances for Arsenal have been average," Arshavin told The Guardian in November. "I've done some good things but I don't assess my game on goals or assists - I look at the whole picture. Normally when I'm on the pitch, I take control of a game but I haven't really done that here. I'm an extra tool in the team rather than the main one, so it's been different."
Whilst the pint-sized forward has at time flattered to deceive during his three year spell at the Emirates, the player enjoys a cult-status amongst Arsenal fans because of his unique sense of humour and his occasional honest and forthright poin-of-view.
The Arsenal star regularly answers fans' questions on his personal website, and in the aftermath of the Gunners' victory against Leeds in the FA Cup, when Thierry Henry capped his return to the Emirates with the winner, the diminutive playmaker was asked if he could ever imagine doing the same at Zenit.
The Arsenal winger told his official website: "I suppose, everything is possible :)"