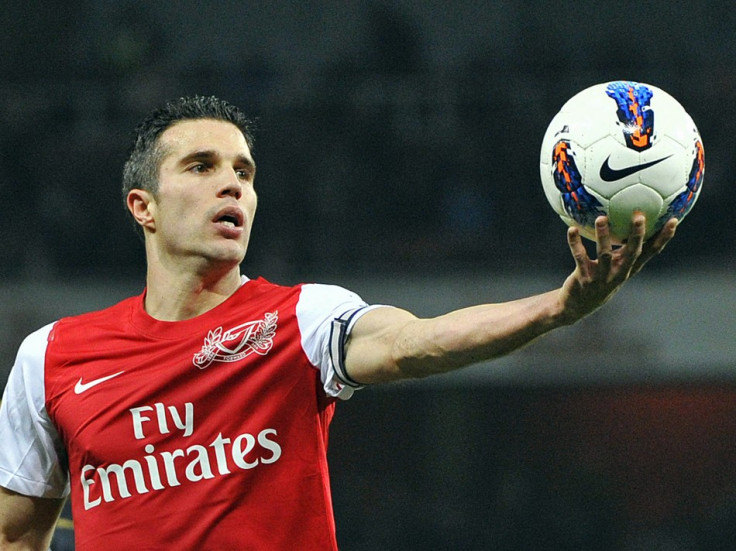 Arsenal captain Robin van Persie, after receiving the Football Writers' Association (FWA) Player of the Year award on Thursday at the London Lancaster Hotel, said that he would "always be a Gunner" no matter where he goes or what happens in his remaining career, according to a Daily Mail report.
The Dutch striker, who was also the winner of the Professional Footballers' Association Players' (PFA) Player of the Year award, beat the likes of Manchester United's Wayne Rooney and Paul Scholes along with Fulham's Clint Dempsey to clinch his prestigious award.
The 28-year-old Dutchman, who has had an excellent campaign with Arsenal, scoring a total of 35 goals (in all competitions) this season, has finally reportedly agreed to open talks regarding his contract extension at the Emirates this summer.
"That is still the plan. We haven't set a date but I will have a meeting with the boss like we did before now. We will be having a meeting about my future, and lots of other things. Arsenal is an unbelievable club. The player I am today is because of Arsenal. When I actually signed the deal (to join Arsenal) it was a dream come true," the Daily Mail quoted van Persie as saying.
"If you ask the likes of Robert Pires how he feels, what he feels like he will say 'I feel like a Gunner' - and whatever happens with me I will always be a Gunner," he added, according to a Telegraph report.
Van Persie, whose side are in a very strong position to qualify for next season's Champions League, says that he was very surprised to receive the prestigious FWA honour, which had been first started in 1948.
"It makes me very proud to be here. I have seen the list [of previous winners], and for me, I never really thought I would be sitting here winning this trophy. But even this season I was not really thinking about winning a trophy for myself. I was just playing because I love it and for Arsenal to finish as high as possible in the league," ESPN reported van Persie as saying.
"When I found out I had actually won it, I was a bit surprised, and was like, 'What, me? Really? It makes me really proud to be part of that history," he added.
Van Persie, who is reportedly being targeted by big spending Manchester City and Spanish giants Barcelona, has also expressed his eagerness and delight to work with Arsenal's latest signing German striker Lukas Podolski, who was earlier rumoured to be a replacement for the Dutch striker.
"He's a really good player. I know that he has played over 90 games for Germany. He's an experienced player. He's been in the game at the highest level for more than eight years now. Great player, he's a winner. When we were playing against Cologne in pre-season you could see that he's a winner. Even if it was a friendly, he was doing absolutely everything to win. We are very happy for him to come to Arsenal," ESPN quoted van Persie as saying.