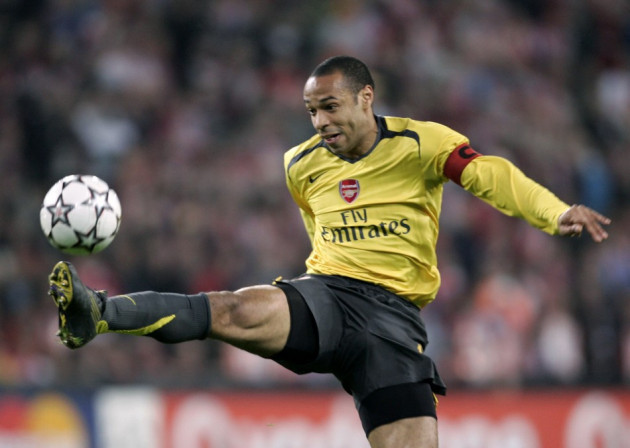 Reports have emerged stating Arsenal legend Thierry Henry could make a sensational return to playing for the club in a loan deal in January.
The New York Red Bulls' striker is currently training with Arsene Wenger's side in a bid to maintain fitness during the MLS off-season. Last week, memories of Arsenal's glory years in the early 2000s were revisited by many during the unveiling of Henry's statue outside the Emirates Stadium marking the club's 125th anniversary.
Club manager Wenger has now hinted at what could bring more memories flooding back, stating that playing Henry on loan during January had indeed crossed his mind.
Arsenal are currently heavily reliant on Robin van Persie, whose scintillating form this season has gained a handful of points. However, Wenger wants to ease the pressure on the Dutchman and rumours of a high profile signing like Lukas Podolski has been rife.
They are expected to scour the market for a striker in January, but a solution could lie closer home - Wenger refused to discount the possibility of Henry's return when asked whether a loan move could be expected.
"I haven't even investigated that (loan move)." Wenger told the Telegraph. "I cannot tell you even if there is a chance because I haven't even made any approach, not to him nor his club. I do not always master all my thoughts so it has to come through my brain at some stage but I haven't been concrete on the case."
"I don't know yet. That was an honest answer," Wenger replied when asked of possible striker-signings after Christmas. "Podolski? No. You want to speak of Thierry Henry and I can understand that but at the moment he just practises with us."
It is still far from possible. But Arsenal fans can still hope. Wenger didn't say no.