Arsenal legend Tony Adams believes his former club's summer transfer targets are not worth pursuing. The former defender, who has also expressed his disappointment at being passed over for appointment to the Gunners' board, questioned Wayne Rooney's mentality and Gonzalo Higuain's potential.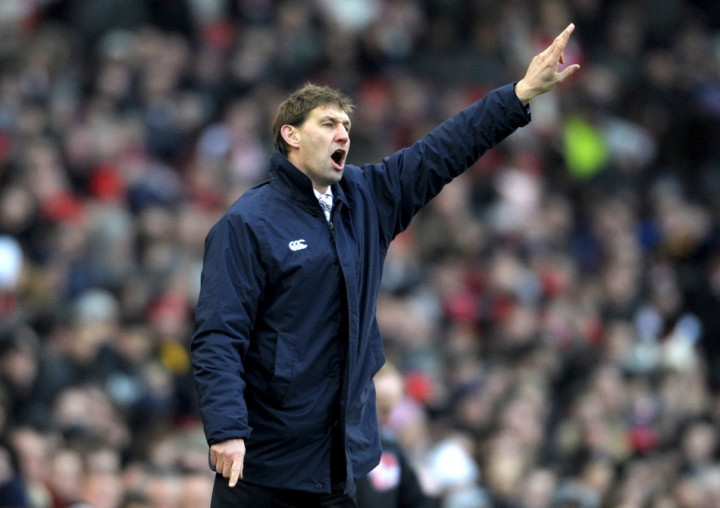 Manchester United striker Rooney is believed to be unsettled at Old Trafford, following demotion in the club's pecking order up front and the appointment of Everton's David Moyes as manager-elect; the Scot will take official charge on 1 July.
The 27-year-old forward has since been linked to a number of clubs, with Chelsea and Real Madrid believed to have joined Arsenal on the list of potential suitors. Complicating matters, though, are reports that Rooney will be persuaded to remain with the Premier League champions; the Guardian believes the England international will tell Moyes of his decision when the two meet later this week and will, in turn, be offered a new contract as a sign of the club's faith in their player.
However, Adams believes Arsene Wenger should think twice about pursuing Rooney. He claims his concerns are centred on the player's ability to handle life in London.
"I'm not sure Wayne Rooney could handle London, to be completely honest. That would be a massive risk. I don't think it's a question of finances. I think it's his temperament and mentality. London is a different animal and it takes a different type of player," the 46-year-old said.
"Wayne is unquestionably a super player and I'd love to see him at the Arsenal. Technically he's fantastic but I'm not sure about him mentally, off the pitch, and his professionalism. I know Sir Alex Ferguson has dealt with Wayne and I'm sure Wenger could handle him, but I'm not sure," he added.
The former England international was also dismissive of 25-year-old Higuain. The Argentine international will leave the Santiago Bernabeu club this summer, with the Gunners fighting Serie A champions Juventus for his signature.
Higuain is not first choice at the Spanish capital and that is believed to be the reason why he wants to leave. His return of 16 goals and five assists from 28 La Liga games last season is excellent and an overall career record of 107 Spanish league goals in 190 games is quite impressive.
Nevertheless, Adams believes targeting a "Real Madrid cast-off" indicates low levels of ambitions for the Emirates club. He believes Wenger would be better off pouring all his significant financial backing into one massive signing (like United's capture of Robin van Persie) to funnel a challenge for the title.
"My fear is that if Real don't want him, you are coming in under that. If you want to compete with Real Madrid you don't get their cast-offs. You need the best players in the league to win the league," Adams argued.
"Arsenal have around £150million to play with on the wage bill and can work it differently to make some strong, difficult decisions. Instead of picking three and one might come through, pick one and say: 'That's our man, give him everything'. And if you keep selling your best players you don't win anything," he concluded.