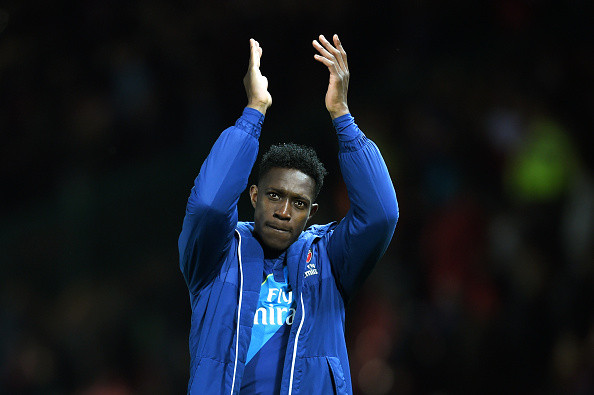 Arsenal manager Arsene Wenger has revealed that Danny Welbeck could return to action with the first-team in the FA Cup against Hull City on 20 February, as the long-term injury forward is "now back to full power in training." The boss, nevertheless, doesn't want to rush his comeback so will keep him on the sidelines along with Jack Wilshere, Santi Cazorla and Tomas Rosicky for the crucial game against Leicester City on Sunday (14 February).
The former Manchester United star is yet to play a single game for the first-team this campaign after coming down with an injury last April, missing the last part of the 2014/15 season. He then underwent knee surgery in September as his summer rehabilitation did not go as expected. However, having played an hour in the U21 game against Brighton earlier this month (5 February), Wenger revealed that he expects the player to be ready for the upcoming FA Cup game.
"[Welbeck] is doing well, it is a bit early for him maybe but he is now back to full power in training. It is a big possibility [he could be involved against Hull next week]," Wenger confirmed to the Arsenal official website. "We gave him one or two days recovery after the under-21 game, but now he is back in full training. He has worked very hard and he is fit."
The manager added that there are no new injury concerns ahead of the crucial duel with Leicester, as the whole squad is expected to be ready apart from Welbeck himself and long-term absentees Wilshere, Cazorla and Rosicky.
"It is a similar squad available to last week [against Bournemouth], we are still early in the week but we should have everyone available. Of course Rosicky [is out], and Wilshere is not ready. But everyone else should be available," the boss said.
"[Wilshere and Cazorla] are back running, they are on a fitness programme now so it means it is not a question of months any more, it is a question of weeks for them to be back."