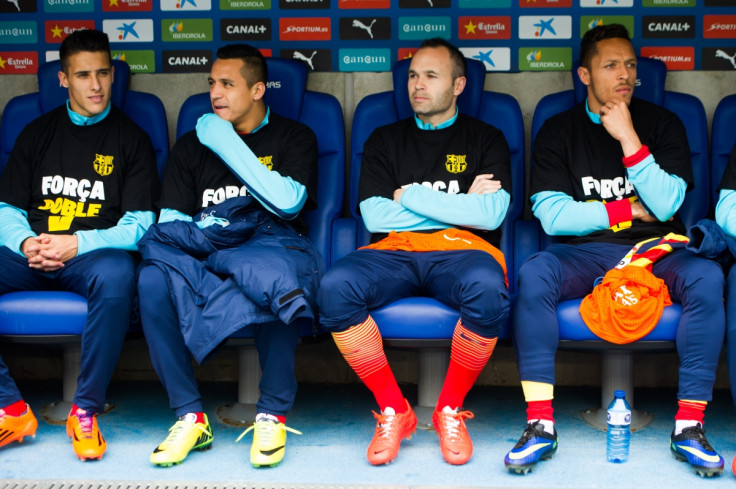 Tata Martino has spoken out about a spat he had with Arsenal star Alexis Sanchez during the pair's time together at Barcelona. The current manager of the Argentina national team says it was hard for him to deal with the Spanish press during his time at the Nou Camp, while also discussing his relationship with Lionel Messi.
Martino moved to La Liga in the summer of 2013 after impressing as manager of Newell's Old Boys in Argentina. However, he left the club after just one season, failing to win any silverware and seeming ill-suited to the job of managing one of the world's biggest club sides. Reports in Spanish press at the time suggested he had failed to impose himself on the dressing room, while his relationship with some players was also less than ideal.
One such reported emerged in April 2013, claiming that Sanchez had described the manager as "spineless" after being left on the bench for the Copa del Rey final.
Sanchez's agent, Fernando Felicevich, issued a statement at the time denying the story: "After speaking with Alexis, he requested that I categorically deny the version of events pertaining to an altercation with the manager of Barcelona. Throughout his 10-year career, he's never at any point had any problem with his coaches, much less insult them. He's always been a consummate professional."
Martino has now revealed, in an interview with Goal.com, that he eventually did have a fallout with the Arsenal player, due to the press's constant stirring.
Asked whether he ever had a problem with a player due to the press, the manager revealed: "Yes, with Alexis Sanchez.
"Once we were are about to start to do an exercise. He was 50m away. I called him: 'Alexis, Alexis.' And he, out of nowhere, reacted as he was playing a game. And I think: 'What's wrong with this guy coming at that speed?'. And I asked him: 'What's wrong? Are you crazy?' And he said: 'We are arguing...' 'Who is arguing?,' I asked. And he said: 'Did you not read the newspaper today?' He said that and I thought, well, we were arguing... So then I have to say look, that's a lie."
Meanwhile Martino, who has coached Messi both at Barcelona and with the national team, spoke about the pressure on the five-time Ballon d'Or to win something with Argentina.
"We need to understand how difficult it is to be Lionel Messi. Despite being the greatest, Messi is an ordinary guy. He speaks like a normal guy, he acts like a normal guy. As a normal person, he has family, day-to-day problems in his life, friends and family, the usual," he said. "Messi hasn't achieved everything yet. It should be clear to everyone that his life isn't all plain sailing. In football, things don't always go his way. It's clear that not having won with Argentina weighs on him."