Arsenal vs Manchester United: LVG compares himself to Arsene Wenger and Sir Alex Ferguson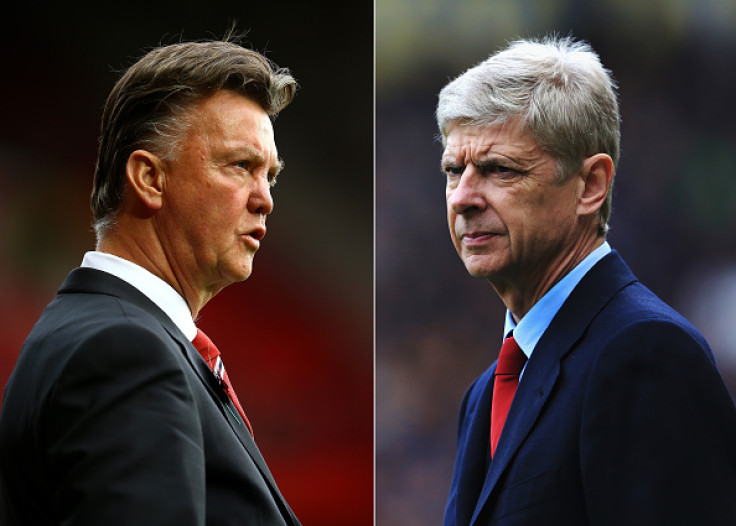 Manchester United manager Louis van Gaal has insisted that he is different when compared to Arsenal boss Arsene Wenger and former Manchester United coach Sir Alex Ferguson. The Dutchman revealed that it is impossible for him to remain at one club for as long as the Frenchman and the Scot, as he constantly needs fresh challenges.
The north London club welcomes the Red Devils to the Emirates Stadium on Sunday (4 October) with Wenger having celebrated his 19<sup>th year in-charge of the club on Thursday (1 October). Ferguson, on the other hand, also spent 26 trophy-laden years at the helm at Old Trafford before retiring in 2013.
Van Gaal, who has managed various top clubs in Europe including Bayern Munich and Barcelona, spent his longest stint at Dutch club Ajax, whom he led to three Eredivisie titles and one Champions League triumph. The Dutchman revealed that he always sets his aim in advance, as he is always seeking new challenges and more trophies.
"I was in Ajax eight years in a row. That was a very long time for the position I had, trainer-coach of Ajax. At that time, I was young and I wanted more," Van Gaal said, as quoted by the London Evening Standard.
"I take that challenge so it's also dependent on your character, what do you want. I want always more. I have set my aims always in advance. It's the same thing what I'm doing now," he added [referring to his promise of quitting United after three years at the helm].
"I have said in advance I want to coach the Dutch team. I was invited [to do so]. I want to go back to the Netherlands another time as national coach, I want to go to Germany. I set aims, and I was very lucky, I think, that clubs or national teams want me."
"Arsene Wenger and Sir Alex Ferguson are other types, I think," The former Bayern Munich and Barcelona manager concluded.
© Copyright IBTimes 2023. All rights reserved.