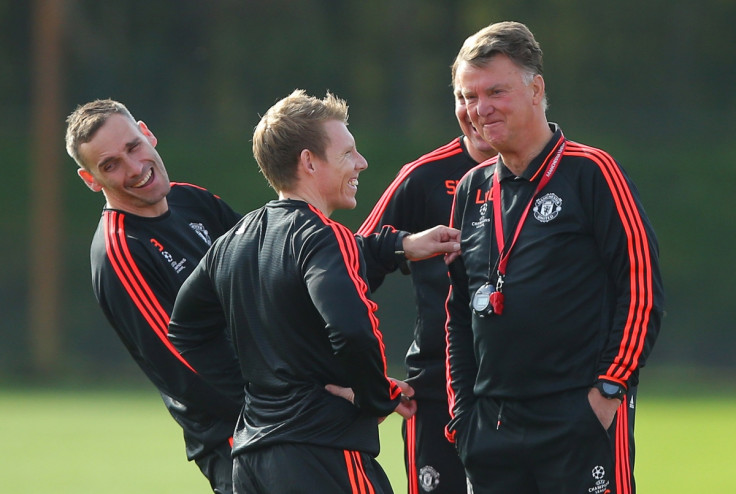 Manchester United manager Louis van Gaal as reiterated his desire to leave the club after three years at Old Trafford after making a promise to his wife. Van Gaal penned a three-year deal with the club in the summer of 2014 and despite enjoying little success in his first season, the Dutch coach remains committed to quitting at the end of his current deal.
Speaking ahead of the Champions League group game against Wolfsburg, he said, according to the club's official website: "Normally I shall leave after next year but what is normal in our football world you never know. I promised my wife I would go to our paradise [in Portugal]. It will be very hard to deny her that promise. It shall be very hard to my wife."
Meanwhile, midfielders Michael Carrick and Ander Herrera are both out the visit of Wolfsburg after they missed training on the eve of the game. Marcos Rojo and Antonio Valencia were also absent from the session and the duo are considered doubtful for the clash.
Carrick was replaced after 68 minutes of the 3-0 win over Sunderland, while Herrera was an unnamed substitute as United went top of the Premier League. Valencia played the full 90 minutes in the game but is likely to miss the midweek clash, as could Rojo who has been nursing a hamstring injury which has forced him out of the last two games.
Van Gaal is unwilling to take unnecessary risks ahead of the domestic trip to Arsenal this weekend (4 October) and says the United quartet could miss the game, which represents their first home group match in Europe's top tier competition for two years. "I think Michael Carrick and Ander Herrera shall not play tomorrow, the other two we shall see – they have minor injuries," the Dutch coach explained. "I don't want to take any risks like the we did Wayne Rooney, it is easy to withdraw players for one match.
United marked their return to the Champions League with a 2-1 defeat to PSV Eindhoven, a result overshadowed by injury to Luke Shaw, which is expected to see him miss the next six months of the season. The 64-year-old says it is imperative the club start their European campaign at home with victory over last season's Bundesliga runners-up.
"You need to win all your home matches in the Champions League otherwise it shall be very difficult," said Van Gaal. "It is still possible but difficult so it's important that we win. We have made progression in the maturity and balance of the team. We have to improve to win the Premier League or Champions League but we are still improving and I can see that every week."