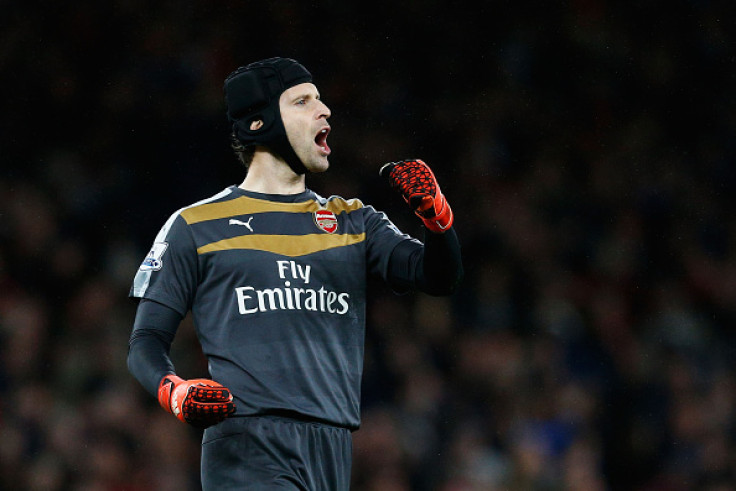 The Arsenal manager has heaped praise on Petr Cech ahead of the north London derby against Tottenham on Sunday (8 November) and has labelled the Czech Republic international one of the best goalkeepers to have graced English football. The French manager also believes that Cech still has a long future at the top level, as he feels that a goalkeeper can maintain his peak until at least he is 38.
The 33-year-old goalkeeper ended his 11-year association with Chelsea to move to Arsenal in the summer, thus ending a trophy-laden career at Stamford Bridge, which included three Premier League titles, a Champions League and Europa League winner's medal. Despite Jose Mourinho's reluctance to let him join the Gunners, the club management were prepared to grant him his wishes to remain in London due to his commitment and dedication since his arrival in 2004.
Wenger has admitted that he is not surprised by Cech's achievements and believes that the former Chelsea stopper deserves every plaudit that comes his way. The manager, who revealed the relative ease at which he was able to sign the Czech international, believes that his consistency to be one of the top goalkeepers in the world for a number of years is due to his dedication and his ability to analyse every side of the game.
"I believe that there is no coincidence. What is repeated is not coincidence, it is just class. As well, not only class but dedication and consistency of quality," Wenger said, as quoted on Arsenal's official site. "Knowing him well now after a few months, I'm not surprised by this kind of achievement because he is absolutely dedicated to his job, he analyses absolutely everything and is gifted as well.
"He is a super talent. He is certainly one of the greatest goalkeepers we have ever seen here in this country. He plays in a position where age is less of a restriction than in any other job. Until 37 or 38 I consider that a goalkeeper can be completely able to play at this level."