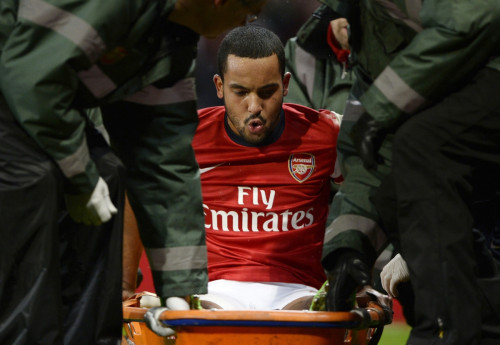 Arsenal winger Theo Walcott could be fit to play for England at this summer's World Cup finals after Scottish surgeon Gordon Mackay pledged he could help the 24 year old return within four months after an anterior cruciate knee ligament injury.
Walcott was expected to miss the next six months after being stretchered off against Tottenham Hotspur, ruling him out of the rest of the Premier League season and the summer's World Cup in Brazil.
Six months is the typical recovery time for most players from an ACL injury however Mackay has utilised an internal brace, which could limit the Arsenal man's absence to just four months.
He helped British bobsleigher John Jackson return within three months from a ruptured achilles tendon using the innovative internal treatment and has offered his services to Arsenal and England.
"Arsenal will have their plans in place for Theo Walcott's recovery and these are always sensitive issues," Mackay told the Daily Mail. "But we would like to inform the club of this different approach."
Mackay, who used to work with Rangers, deals primarily with ligament reconstruction and has helped a number of sportsman recover from serious injuries.
And his expertise could be vital to Walcott reigniting his World Cup dream, which seemed to have been all but extinguished after news on Monday of his lengthy spell out.
Walcott travelled as a 16-year old to the 2006 World Cup finals but failed to make an appearance before being omitted from the squad for the 2010 tournament by then manager Fabio Capello.
England manager Roy Hodgson said: "I spoke with Theo and just wanted to express my disappointment to him.
"It is a blow for him personally of course, and for both Arsenal and England.
"We had quite a lengthy conversation and it is such a shame that we have lost a player of his calibre for the World Cup, he has been incredibly unfortunate and we wish him a speedy recovery.
"Having worked with him for two years as England manager I know the character he has, and I know he will come back even stronger from this setback."