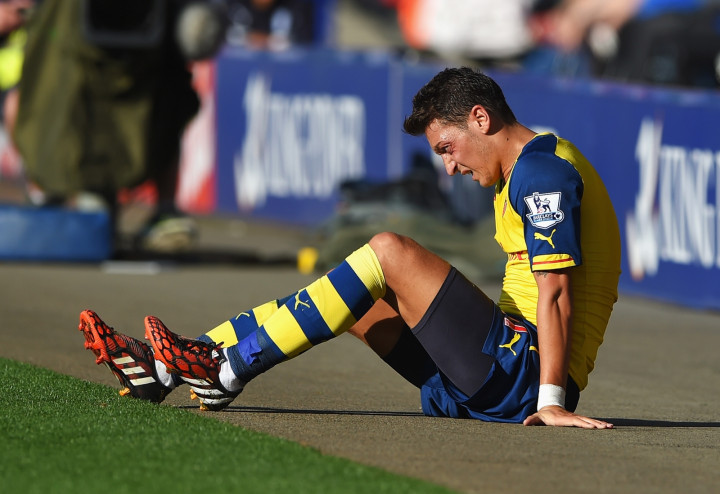 Arsenal manager Arsene Wenger has admitted that he was aware of Mesut Ozil's knee injury during the game against Chelsea.
The Frenchman has revealed that the German international had a slight pain in his knee during half time, but the manager decided to let him play since the Gunners were a goal down.
Ozil played the entire 90 minutes of the game which Arsenal lost 2-0, and has now been ruled out for three months with a knee ligament injury.
This admission from the north London club's manager is not going to go down well with the Gunners fans, who have already seen a lot of first-team players on the treatment table.
"He had a little problem just before he went out at half-time. He had a little pain with his knee, he felt a crack," Wenger said, as quoted by Goal.
"I said to our physio to keep an eye on him and if there was anything wrong with him, tell me because when you're 1-0 down, you want to keep your offensive players on the pitch," the Frenchman explained.
However, the 64-year-old manager claims that he is shocked at the manner in which the injury occurred, especially as there was no collision with an opposition player.
"I am deeply shocked. He wasn't involved in a collision with anybody. It was just after making a pass with the outside of his foot that he injured his leg," the Arsenal boss exclaimed.
"It's very hard to believe that you can damage your ligament with just making a simple pass and it's very difficult to take that he will be out for a while."
Arsenal are worse than any other club when it comes to injuries and unlike last season, the injury curse has hit the club during the beginning of the campaign rather than the end.
The Emirates Stadium outfit have a number of first-team players out with injury and three out of those players, Olivier Giroud, Mathieu Debuchy and now Mesut Ozil are long-term absentees.
But Wenger has dismissed claims that the preparation is to be blamed for the number of injuries affecting the club, and believes it is pure coincidence and calls the injuries accidental.
"I am not a great believer in coincidences but this time it really is coincidence. You cannot say our injuries are preparation mistakes. The big injuries we have are really accidental."
"Scientifically we are quite good. We have been hit hard after seven games. I would never have thought we would have had so many bad injuries," Wenger concluded.