Arsene Wenger announces Theo Walcott as the fastest player at Arsenal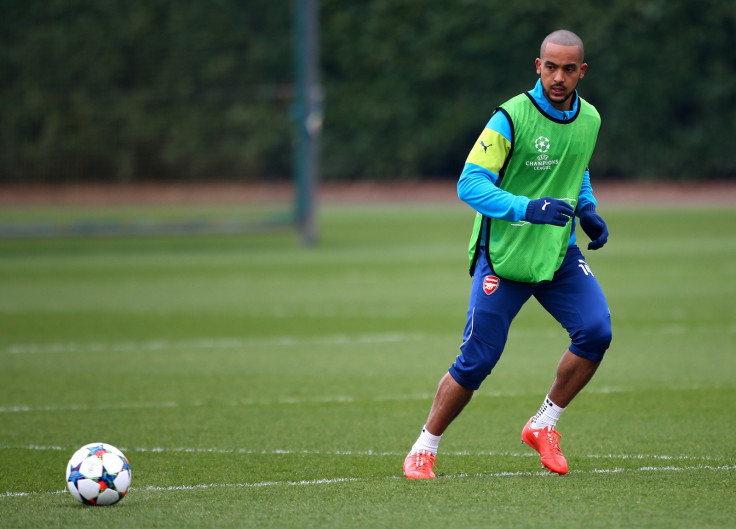 Arsene Wenger has put the "fastest Arsenal player" debate to rest after he declared Theo Walcott was indeed fastest on the pitch.
There was a major furore when it was revealed that Hector Bellerin had beaten Walcott by 1/100th of a second in a 40m dash, a time which was faster than world record holder Usain Bolt. The news had pinched a lot of nerves, especially that of sprinters who challenged the players for a face-off to determine who is faster!
Bellerin managed to make the right-back position his own in Wenger's line-up this season, after an injury to Mathieu Debuchy. His opening goal against Liverpool opened the floodgates for Arsenal to destroy the Reds, avenging their 5-1 defeat at Anfield last season.
On the other hand, Theo Walcott has had a frustrating season, as he has been on the sidelines, with Wenger limiting his chances on the field. The winger is likely to open contract negotiations for an extension on his current deal, which expires next season.
Wenger believes that the pace in football is down to the speed of your thought and the ability to bring it to fruition on the pitch cannot be measured via an instrument.
"I believe that Walcott is our fastest player, and I agree completely that the sprinters are quicker than football players, but it's different runs," Wenger told Arsenal's official website.
"You know, a football player runs with football boots on grass, it's different kinds of runs, it's not only pure pace.
"The pace in our job starts with the brain and of course then you put in action what you analysed on the pitch.
"But pure speed, I am convinced that the sprinters, who are specialists, are quicker than football players," he added.
The Frenchman is likely to make a couple of changes to the squad in the FA Cup this weekend, with Wojciech Szczesny coming in for David Ospina being the only confirmed change thus far.
© Copyright IBTimes 2023. All rights reserved.