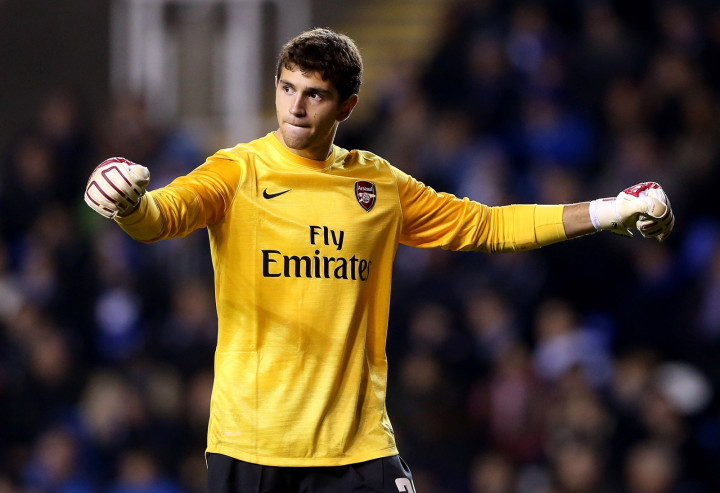 Arsene Wenger has no concerns over handing third-choice goalkeeper Damian Martinez a starting role after urging his Arsenal side to give a "fraction more" in order to turn draws into victories.
The Gunners have taken just two wins from their opening eight games of the Premier League season, a run of form that already sees them sat 11 points off league leaders Chelsea.
While they have only lost one game in the league, Arsenal's five draws have cost them dearly in the opening months of the season, needing a stoppage-time equaliser from Danny Welbeck to rescue a 2-2 draw with Hull City at the weekend.
While injuries have not helped, Wenger believes his squad are capable of more.
"We have lost only one game in the Premier League, but we have not enough points with what we produced," Wenger said.
"Top-level performance is to make the maximum with your potential and sometimes in games you need a fraction more, so that is what we want to do, give a fraction more to be really efficient in what we do."
Arsenal's focus shifts back to the Champions League on Wednesday 22 October, where they take on Belgian champions Anderlecht in Brussels.
Amid a spate of injuries that still keeps Mathieu Debuchy, Olivier Giroud, Mesut Ozil and possibly Laurent Koscielny sidelined, Wenger's plans were further disrupted with news that David Ospina have been ruled out for three months with a thigh injury.
Wojciech Szczesny's suspension after receiving a red card in the 4-1 win over Galatasaray last time out means Wenger must turn to Argentine youngster Martinez. The 22-year-old has made just two first-team appearances for the Gunners – conceding five in one of those in his side's frantic 7-5 win over Reading in the League Cup in 2012 – but Wenger believes the goalkeeper's loan spell in the Championship last term has him adequately prepared for the challenge at hand.
He said: "[I am] extremely confident because he has experience from Sheffield last year and when he played for us, he did very well. I have no special worry about that."