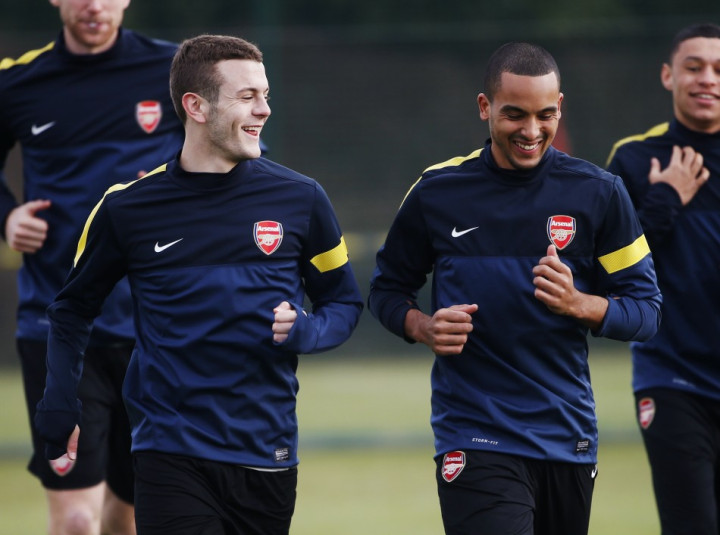 Jack Wilshere has talked up Theo Walcott's much anticipated return to the first team after a nine-month layoff with an anterior cruciate ligament injury and revealed that the player looks faster and stronger in training.
The midfielder believes that Theo is different from Alex Oxlade-Chamberlain in the way he contributes to the team with his runs behind the opposition defence. Arsenal fans were waiting with bated breath to see the pair of Mesut Ozil and Walcott combine but an injury to the German has postponed the reunion.
The duo hasn't played much since Ozil's arrival, with Walcott injured for the better part of last season.
Wilshere is confident that Walcott will be a bigger force to reckon with when he returns and is looking to combine with his England teammate and bring the Gunners out of the sorry slump they find themselves in.
"He gives us something different - he gives us pace. I know we've got Alex Oxlade-Chamberlain who gives us pace but Theo gives you something different without the ball," Wilshere told www.Arsenal.com.
"I've never played with someone before who times their runs so perfectly and keeps doing it, time after time. It's tough in a game to repeat those sprints 15 or 20 times but he does it, and it's a dream for a midfielder.
"People questioned his finishing before but he's improved so much. He can run in behind and he's good on the ball, he's improved that too. When you get someone back of Theo's quality it's going to give everyone a boost.
"He's got physically stronger and he looks quicker than he did before - that might seem impossible but he does. He's done a lot of work on his quads and his power so he's going to come back fine," he added.