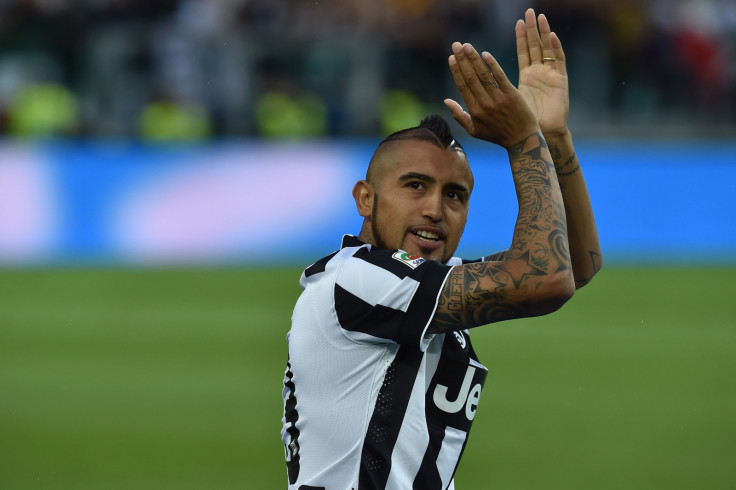 Arsene Wenger has suggested he is not interested in bringing Juventus midfielder Arturo Vidal to Arsenal this summer.
Reports of an offer from the Gunners for 28-year-old Vidal have heightened in recent weeks with Wenger recently admitting to reporters he is an admirer of the Chile international.
Speculation continued on Saturday as Arsenal successfully defended their FA Cup crown by thrashing Aston Villa 4-0, with reports claiming the agent of the Juventus midfielder was in attendance at Wembley.
After his side's win, one journalist questioned Wenger on talk of an offer for Vidal, but the Gunners boss responded by saying: "Arturo Vidal? You must be from Chile. We have good midfielders, and at the moment we are not looking at Arturo Vidal."
Manchester United were persistently linked with a move for the Juventus powerhouse throughout last summer's transfer window. According to various reports fuelled by comments from Chile manager Jorge Sampaoli, United boss Louis van Gaal had been prepared to push through a move but was unconvinced over the player's long-term fitness, following knee surgery earlier that summer.
Over the course of the season Vidal has regained full fitness, however, helping the club to their fourth consecutive Serie A crown and a place in the Champions League final against Barcelona on Saturday 6 June.
Wenger had been reluctant to discuss any transfer stories as his side prepared for the finale of their season on Saturday and was equally dismissive when quizzed on reports claiming the club could look into a bid for Real Madrid striker Karim Benzema.
He told reporters last week: "You can suspect that [Real Madrid may sell him this summer] but at the moment I am not in a transfer mode," Wenger responded when asked about the Gunners' interest in the striker.
"We'll deal with the transfers after the FA Cup final. It's all suspicions. Does anybody know if that's true or not? I don't know."