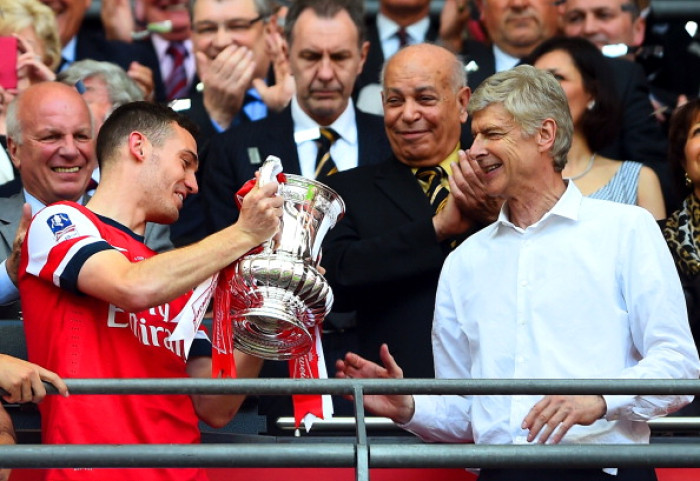 Arsene Wenger has confirmed Manchester United are one of the clubs vying for the signature of want-away defender Thomas Vermaelen.
The Arsenal manager admitted it would be "difficult" for the club to stand in his way after the 28-year-old intimated he wanted to leave the Emirates to secure first-team football.
United are going head-to-head with Barcelona for the Belgian international, with Barca representatives reportedly in London to thrash out a £10m deal to take him to the Nou Camp.
But Louis van Gaal is preparing a counter-offer of £15m, sparking a bidding war that could see Arsenal extract a greater fee for Vermaelen.
Sitting down ahead of Sunday's Community Shield clash against league winners Manchester City, Wenger confirmed Vermaelen was likely to leave the club.
"It could happen," said Wenger. "I sat down with Thomas this summer and we talked about his future."
Asked if one of the teams in for Vermaelen was Manchester United, Wenger repsonded: "They are in the group."
Discussing the club's strategy, Wenger said: "Vermaelen could leave us because he needs to play now. We're in a position where it's difficult to stand in his way.
"We would prefer to sell him aboard. That is an option. We have offers from abroad as well. We have bids. You will know very soon."
Alexis Sanchez, Mathieu Debuchy, David Ospina and Calum Chambers have all bolstered Wenger's squad since the end of last season, while Bacary Sagna and Lukasz Fabianski have left the club.
But despite spending in the region of £65m, Wenger reiterated he was unafraid of dipping back into the transfer market.
"We have three and a half weeks until the transfer market closes - we could still strengthen, but we have a big squad," Wenger added.