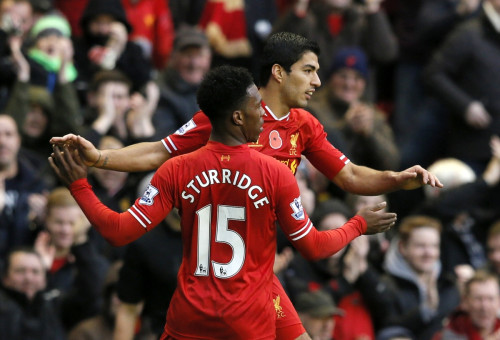 Arsenal boss Arsene Wenger has scorched any suggestion the club will reignite their interest in signing Liverpool striker Luis Suarez after the club failed with two bids for the Uruguay international last summer.
The Gunners have been heavily linked with making another marque signing in the summer transfer window – to mirror the addition of Mesut Ozil - in order to continue their rapid improvement which has seen them stage a genuine challenge for the Premier League title this season.
Wenger had originally wanted to take advantage of Suarez's perilous position at Liverpool in the off-season, which saw him constantly request to leave Anfield, but was forced to abandon his pursuit of the forward as the Reds held firm.
With Arsenal having failed to sign support for Olivier Giroud in January, the club are expected to make an addition to their forward line in the summer but according to Wenger there will be no new bid for Suarez.
"No [I have no regrets]," said Wenger. "You sometimes have regrets when a player played for you, and scores goals or does well somewhere else. He was never our player, it is just a situation that did not come off and that is it.
"But it was not to replace Olivier Giroud. We never wanted to replace Giroud, we always had complete confidence in him. I said at the beginning of the season that he always does better in the second year everywhere and he shows that again this season.
"He is a very important player for us and I am not surprised at all he is doing well."
Suarez has scored 23 goals in 19 league appearances this term and has formed a formidable partnership with Daniel Sturridge who are among the most feared strikers in the Premier League.
Though Arsenal kept Suarez and Sturridge quiet in the league meeting in November, the north Londoners face the strike pair twice in a week, with a second meeting in the FA Cup scheduled for next week.
But Wenger is unperturbed by the proposition.
"[The key is] for us to dominate the game and leave them as few balls as possible," the Arsenal boss added. "That will be one of our targets of course.
"At Liverpool the task might be a bit more difficult but the philosophy on our side has to be the same - to master the ball and to have the ball and to dominate the game.
"Liverpool have a strong offensive force with Sturridge, with Suarez, with Coutinho, with Sterling behind. All these players can score goals and make a difference. So what you want on our side is a strong defensive performance."