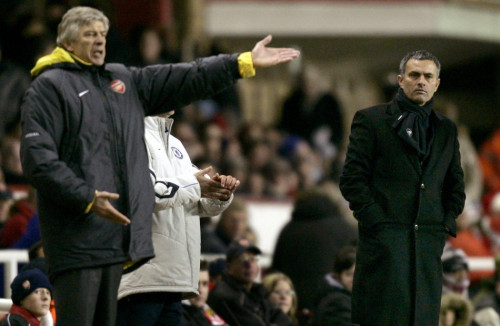 Arsene Wenger has waived away Jose Mourinho's rebuke about the Gunners getting the easiest set to fixtures in the league.
Arsenal completed a superb 4-0 win over Coventry City to progress into the fifth round of the FA Cup with a brace from Lukas Podolski and a goal each from substitutes Olivier Giroud and Santi Cazorla.
Following the win, Wenger was asked about his thoughts on Mourinho's comments who stated that Wenger is bitter about Chelsea'a decision to allow Juan Mata to move to Chelsea.
The Frenchman had stated that it was not fair for the league to allow transfers widway through the season. Mourinho also added that it was unfair that Arsenal were entrusted with the most comfortable schedule in the league while Chelsea were made to endure a gruelling fixture list.
"Wenger complaining is normal, because he always does. It's something that we know. When he says this is not fair, I think what is not fair is that his team always has the best days to play. This week, a week without midweek games, what everybody wants to do is to play earlier to have more time to rest for the next week," Mourinho said.
"This is not fair, and when you go to the fixtures during the season, it's never fair, because they always get the right time to rest, the right time to play," he added.
In reply, Wenger complained about their fixture list in December where they had to play Everton, Napoli and Manchester City in six days of each other and ridiculed Mournho for this oversight.
"Look, you choose over Christmas the fixtures and you tell me who had the best fixtures! We played on Sunday against Everton, on Wednesday in Naples and on Saturday morning at Man City, so we have not the same assessment on that front. I can accept that we have different opinions. Everybody is free in life to have their opinion," Wenger told www.arsenal.com.