Arsene Wenger remains convinced that Mesut Ozil wants to stay at Arsenal but is unsure if he will sign a new deal before the end of the season.
The one aspect the Frenchman is certain about that Ozil will remain until the end of the campaign. The German international has been linked with moves to Manchester United and Barcelona, but will not be allowed to leave midway through the campaign.
The club decided not cash in on the German midfielder and Alexis Sanchez in the summer despite the duo not agreeing to a new deal. The duo can open talks and sign a pre-contract with clubs outside England once the transfer window opens next month.
Manchester City have been linked with a move for the Chile international in the New Year with Pep Guardiola keen to reunite with his former Barcelona player. He refused to rule out a January move, but Wenger has made it clear that he will remain at the club until the end of the season.
Similarly, reports suggested that Barcelona and United were ready to test Arsenal's resolve by making January bids for Ozil, but are now likely to wait until the summer. The manager is hoping that the midfielder commits to the club and signs a new long-term deal.
"I believe he wants to stay, he is not to be convinced [to sign a new contract]," Wenger said, as quoted by Sky Sports.
"You want nobody to leave and you see where we stand on that. But at the moment, it's very difficult. Until the end of the season we know what it is, but after that, I cannot tell you."
Wenger, meanwhile, praised Ozil's current form and believes he at his best since joining Arsenal in 2013. The World Cup winner has been in fine form in recent weeks orchestrating the Gunners' midfield.
The 29-year-old has scored three and assisted five goals in 15 appearances in the Premier League thus far, but is among the best in terms of chances created during games. Wenger, however, has praised the midfielder's in term of taking responsibility and guiding the team.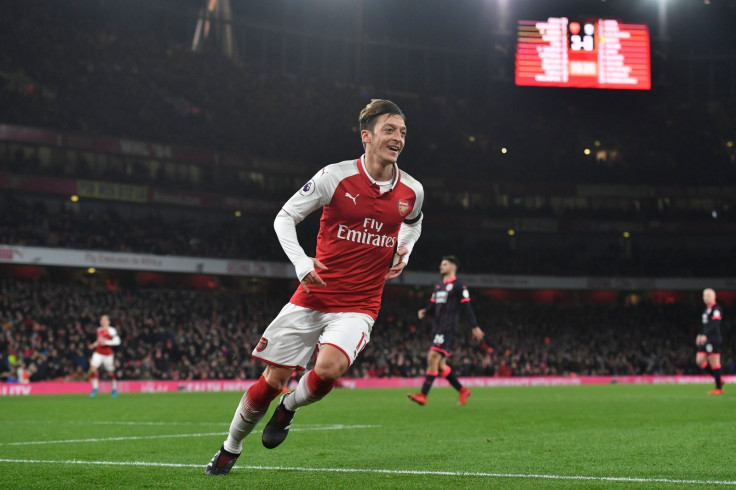 "Yes, certainly," Wenger said when asked if Ozil was at his best at the moment. "I think he takes responsibility and that's what you want from him. He is more mature, he guides the team very well, he does a lot on the ball and your heart rate always goes down when he has the ball."
"I would say more important is the quality and the influence he has on the collective game, rather than his goal.
"You cannot wait to score a goal like that every week, but you can play like he plays usually every week. That is more important. If he adds that to his game, it's even more important," the French coach explained.