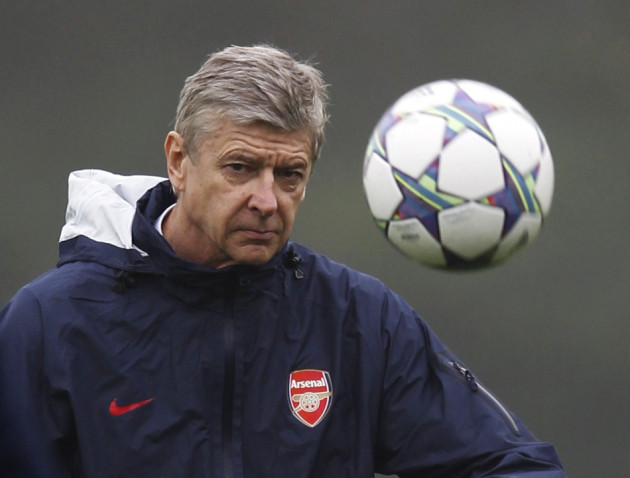 Arsene Wenger believes Manchester City still have a long way to go before they are to emulate Arsenal's unbeaten season.
The "Invincibles" of 2003-04 became the first team to go unbeaten all season en route to winning the Premier League - but the current leaders have started strongly, recording 11 wins and two draws from their opening 13 fixtures.
Arsenal entertain City in their Carling Cup quarter-final on Tuesday night, but Wenger cautioned they cannot be considered champions-elect just yet.
"As long as they have not been beaten then yes [it's possible to go unbeaten]," he told the official Arsenal Web site.
"You have to go through the whole winter when you play in the Champions League - we did that. In the FA Cup as well, the Semi-Finals of the Champions League - to do that together is very difficult.
"But I think in the modern game you need a bit of luck - watching the game against Liverpool they could have been beaten.
"Overall hopefully [they don't go unbeaten] because we want to get as close as possible to them and it's important to beat them."
Wenger also revealed he considered signing Owen Hargreaves in the summer only to decide he already had a surplus of defensive midfielders.
Manchester City eventually signed Hargreaves on a free transfer, after his contract at Manchester United expired.
"When he played at Bayern Munich we followed him very closely but it was a big transfer - I think he was sold to Manchester United for £17m at the time and he only had one year left on his contract. So we didn't move in for him at that time," he added.
"In the summer [when he moved to City] we considered it but we had players like Emmanuel Frimpong and Francis Coquelin coming back. We have Alex Song and Abou Diaby in these defensive positions so we were not really in the need.
"It's hard to miss years through injury. When they come back it shows great mental strength and Owen Hargreaves has that. He was a regular in the England national team and now for years he has not played at all. Everybody is happy to see him back."
Wenger hinted that Frimpong would start tonight's match, together with Alex Oxlade-Chamberlain, Yossi Benayoun and Park Chu-young as the Arsenal boss balances the workload across an increasingly threadbare squad.
Historically, the Frenchman has used the Carlin Cup to blood young players but the strength of City's second team has convinced him to blend more experienced members with his young guns. The situation is complicated by the need to rest some of his established players ahead of a hectic festive period.
After the 1-1 draw with Fulham on Saturday Wenger warned that the likes of Robin van Persie, Theo Walcott and Aaron Ramsey were "in the red" and close to burn-out.
"I believe that some players are on the fringe of being really limited," Wenger said. "I will rest some players but I still want to play a team that has a chance to win the game.
"For example, players like Alex Oxlade-Chamberlain and Emmanuel Frimpong will play but I consider them to be first-team players. I have 90 per cent decided. There is still 10 per cent flexibility."