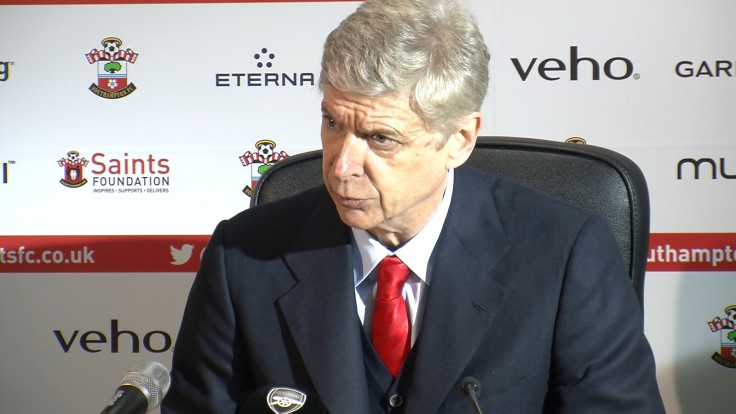 Related
Arsenal Injury News: Wenger Gives Update Over Debuchy Injury
LIVE: Premier League Latest Scores and Updates: Manchester United 0-0 Southampton
Arsenal target Krystian Bielik on trial at Hamburg as Gunners refuse to shell out money
Stoke City enter race to sign Arsenal target and Ipswich Town defender Tyrone Mings
Arsenal injury news: Midfielder Jack Wilshere could return to action earlier than expected
Arsenal manager Arsene Wenger has confirmed the Gunners are expected to bolster their back line during the current January transfer window, after Mathieu Debuchy sustained a new injury during the victory over Stoke City on Sunday, 11 January.
The French international, who has missed most of the first part of the campaign due to an injury, was forced to leave the ground in the 13th minute of the game after picked a shoulder injury, being replaced by Héctor Bellerín.
Furthermore, left-back Kieran Gibbs was unable to field due to a problem on his ankle, while defender Calum Chambers also missed the game.
After the match, the boss addressed the situation of the three players while confirm even before Debuchy's fresh injury he was expected to strengthen the defence during the current transfer window.
"The only negative today is that we lost another experienced defender. That gives us a problem because we are already short of experienced players at the back," the boss said.
"He has a dislocated shoulder. It's difficult – you need a diagnosis from a specialist. We don't know yet, but he will certainly not play next week. Kieran Gibbs still has an inflamed ankle. The test yesterday told us it didn't work."
When questioned whether the French international injury will affect the transfer plans he said: "Not so much because we were in the market anyway.
"Monreal and Debuchy can play centre back, but if Gibbs is not here, Monreal cannot play centre-back, and if Debuchy is not here he cannot play centre-back. This is a position where we are short."
Meanwhile, the boss claimed Chambers missed the game just because he was sick.
"Chambers was sick. I took him with the team, but I decided at the last minute to leave him out of the squad because he's been sick in the last two days."