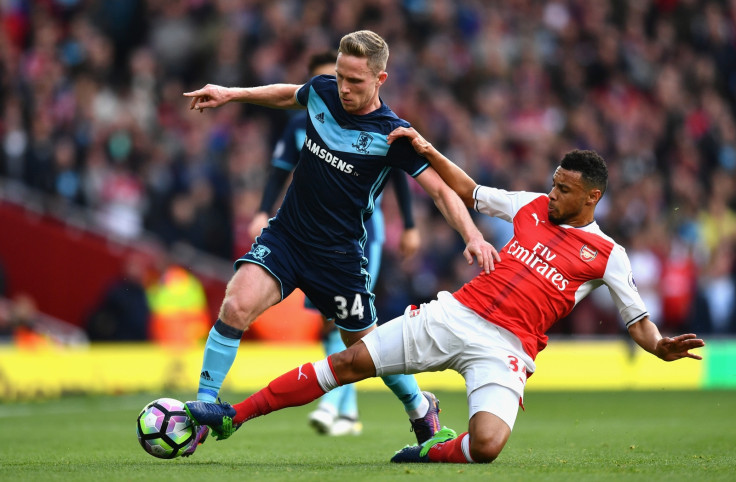 Arsenal manager Arsene Wenger has revealed that he does not like to use Francis Coquelin at right-back as the Frenchman does not have the physiological profile to fit into that role. The Gunners are short in that position with injuries to Hector Bellerin and Mathieu Debuchy, with the latter injuring his hamstring against Bournemouth after less than 20 minutes on the pitch.
Gabriel has since been put into that role and is likely to start against West Ham, with Carl Jenkinson having started against Southampton in their 2-0 loss in the quarter-finals of the EFL Cup in mid-week. Coquelin is expected to start in midfield alongside Granit Xhaka or Aaron Ramsey, with Mohamed Elneny uncertain with a stomach bug he picked up earlier this week.
Wenger has previously experimented with Coquelin in that position but that has led to muscular injuries for the Frenchman, something the Gunners can ill afford at the moment. Arsenal are already without Santi Cazorla for atleast three months after the Spaniard decided to undergo surgery on his Achilles, for which he has been out of action for the last two months.
"It goes through your mind [to play Francis at right back]," Wenger told Arsenal's official website. "But I don't do it because I don't feel he has the physiological profile of a full back - that is more on big accelerations, long-distance running and coming back.
"Francis is a guy who is very explosive on short distances. Every time I've played him at right back, he's had muscular injuries. I think you have to get used to that kind of effort and he does not have that physiological profile to do this kind of job."
A win here for the Gunners will keep the pressure on the likes of Chelsea, Liverpool and Manchester City, who are currently three and two points ahead of the Gunners respectively in the table. Olivier Giroud is a slight doubt for the game after picking up a slight injury against Bournemouth.