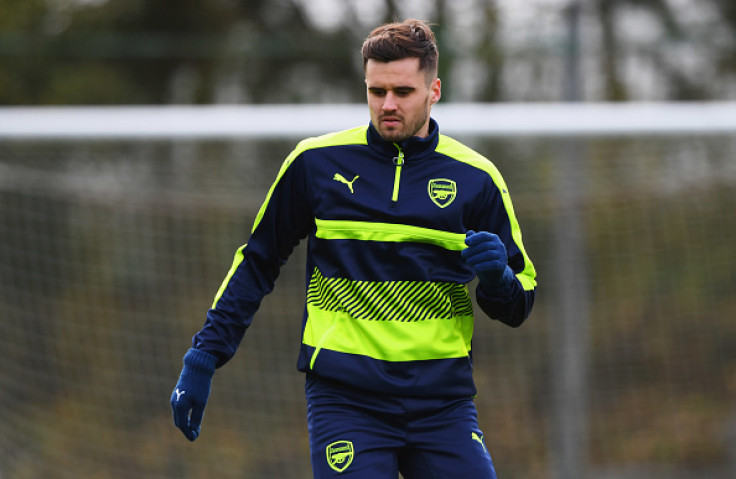 Carl Jenkinson is set to be dropped from the Arsenal first-team ahead of their visit to the London Stadium to face West Ham United on Saturday (3 December) with Gabriel Paulista likely to take his place.
The right-back, who is returning from a long-term injury absence, endured a difficult time during Arsenal's recent loss to Southampton in the EFL Cup and was jeered by sections of the home crowd. Arsene Wenger has backed him to return to his best level and admits it is a matter of regaining his confidence, which is at its lowest at the moment.
Hector Bellerin is the Gunners' first choice in the right full back position, but the Spaniard is currently injured. The 21-year-old has established himself as one of the best right-backs in the Premier League and the French manager has urged supporters not to compare Jenkinson with the Spain international.
Ainsley Maitland-Niles has also been deployed at right-back this season in the EFL Cup games and could feature until Bellerin returns to full fitness. Jenkinson is likely to be kept out of the firing line for the upcoming games in the Premier League and Champions League with Gabriel likely to be promoted to first choice on the right hand side in defence.
"He has lost confidence because the Jenkinson you see at the moment is the Jenkinson who can play but not completely himself because he has no confidence. That will come back. He will be in and out and suddenly after one or two months, he will make the step and play. It is natural and very difficult," Wenger said ahead of Arsenal's clash against West Ham, as quoted on the club's official site.
"Bellerin is one of the best in his position certainly in Europe, but Carl can compete with him. At the moment, no, because mentally he has not found back his total level nor his confidence.
"The best way to help them is to respect the fact to play them when they are competitive, because if you don't play them, they are not completely ready mentally it's even worse and I think Ainsley has a chance there. I still have not decided for West Ham completely, although Gabriel is a bit in front because of the experience, what we might face in the air as well. Gabriel is good in the air so I go a bit more at the start for him," the French coach explained.