Arsene Wenger believes that both red cards given to Olivier Giroud and Marco Verratii were very harsh as neither of them did enough to warrant a sending off. The two players were already on yellow cards, with the Arsenal striker receiving his first booking for remonstrating with the referee.
The duo clashed on the pitch in injury time, with the referee giving them the marching orders after consulting with the other officials. This is Giroud's second red card in consecutive Champions League opening day fixtures, having been sent off against Dinamo Zagreb last year after picking up a double yellow.
"The ball was on the other side, I did not see what happened. I think the first yellow card [for Giroud] was very harsh already, it wasn't a foul. The second, he tells me he has done nothing at all and Olivier is honest so I believe him. And Verratti told me as well that he has done nothing, so I said look, 'go together to see the referee and tell him you did nothing'," Wenger told Arsenal's official website.
Giroud will miss their home game against Basel in the Champions League, with Lucas Perez likely to be given a look-in for his European debut. The former Deportivo La Coruna striker made his league debut against Southampton but did come off the bench against Paris Saint-Germain, with Wenger taking a more defensive approach after getting the equaliser. The Gunners had gone behind in the opening minute with Edinson Cavani scoring the goal for the Parisians but Alexis Sanchez was at hand to bring the Gunners level after three quarters of the game were done.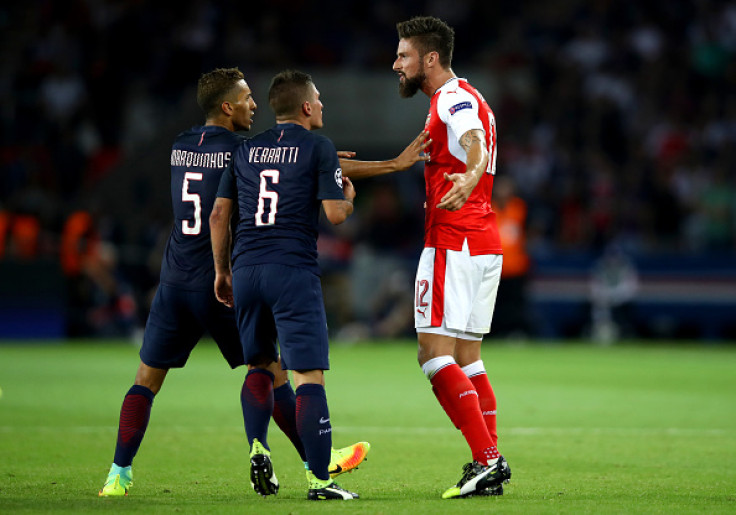 The manager conceded that the Gunners were second best for majority of the game as their midfield was operating at a large distance from Alexis, who had started through the middle. The Gunners rectified that mistake in the second half and were rewarded for their efforts.