Arsene Wenger Would Have Left if Arsenal Had Failed to Win FA Cup, Says Mikel Arteta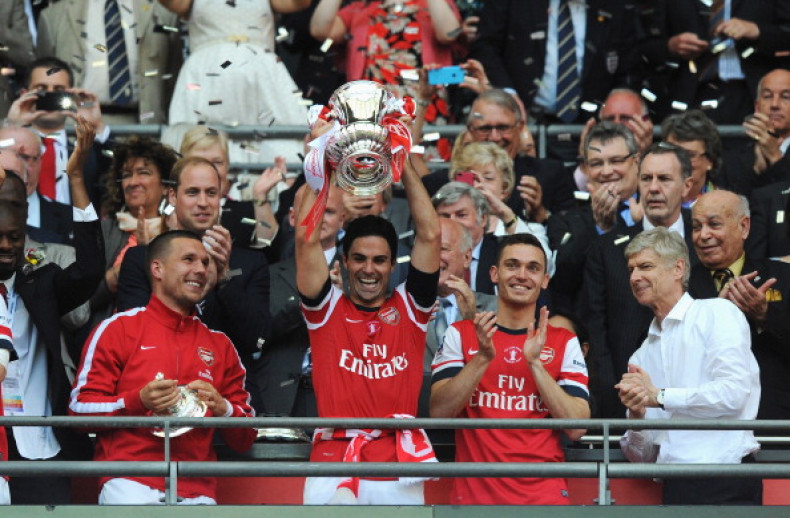 Mikel Arteta says Arsene Wenger would have left Arsenal if his side had lost the FA Cup final in May.
The Gunners were trailing by two goals against Hull City at Wembley, but they made a comeback as a late strike from Aaron Ramsey saw the north London club end their nine-year long trophy drought.
Wenger's contract was set to expire earlier in the summer and his future at the Emirates was uncertain. However, the Frenchman ended all speculation surrounding his future by signing a contract extension.
"He wasn't clear with his future. He always said he wanted to stay but he didn't sign. In the semi-final - or even in the final - we never knew what was going to happen," Arteta explained.
"If we lost the Hull game we'd be talking about a different story. That would have started a period of reflection and decision. It was a big game in Arsenal's history. We won the first trophy in nine years."
"You can go from being criticised to being hailed very quickly. But I worry for the young lads. When I came to the UK, what I liked about the culture was that clubs protected their players and made it hard for people to knock your confidence. But now it's impossible," he added.
Wenger signed Arteta from Everton in 2011 and has been a regular name in the north London club's starting lineup.
The 64-year-old manager named the midfielder as the club's skipper before the start of the season following Thomas Vermaelen's departure to Barcelona.
The Spaniard has hailed Arsenal manager for his ability to back his players, irrespective of the situation.
"He defends his players 100 per cent and that's something that matters. That does not change if it is teenage full back Hector Bellerin or the club's record signing Mesut Ozil, who responded to criticism last week with a goal at Aston Villa," the Gunners captain said.
"When you have players like Ozil with everything he involves - his price, his personality - people will either love him or not like him at all."
"When you're an artist, you're never going to perform nine out of 10 every week. It's much more difficult for a creative player to perform at that level," Arteta concluded.