Barcelona manager Luis Enrique has rubbished recent reports claiming former Liverpool star Luis Suarez is fat and unfit.
Banned from competitive action for four months after biting Giorgio Chiellini during a World Cup match against Italy, the Uruguayan international returned to the pitch on Wednesday 24 September for a friendly with the Barcelona B team against the Indonesian Under-19 side.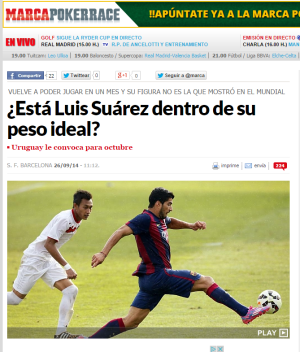 Even though Suarez scored a brace to help Barcelona's second team to a 6-0 victory, some reports suggested he looked out of shape and a little bit fatter than his time at Liverpool.
But, when questioned about that during a recent press conference, Enrique joked about the issue. "Luis Suarez is in very good shape, I think better than good," he said.
"He is controlled, he is on his weight. All the players are controlled to detail. He has a powerful physique and is ready to play... At Liverpool I never saw him very thin but if you want, we can [perform] liposuction."
Suarez still has a month to work on his fitness as he will not be able to play for the first team until Barcelona's La Liga match against Real Madrid on 25 October.
Meanwhile, the Barcelona manager confirmed former Arsenal centre-back Thomas Vermaelen is close to making his debut for the Spanish giants after returning to training following a pre-season injury.
"Vermaelen and the medical team have done a great job," he said.
"I think we made some great additions on defence; I'm very happy with all of our centre-backs."
Barcelona host Granada on Saturday 27 September after dropping their first points of the season on Wednesday night with a goalless draw against Malaga.