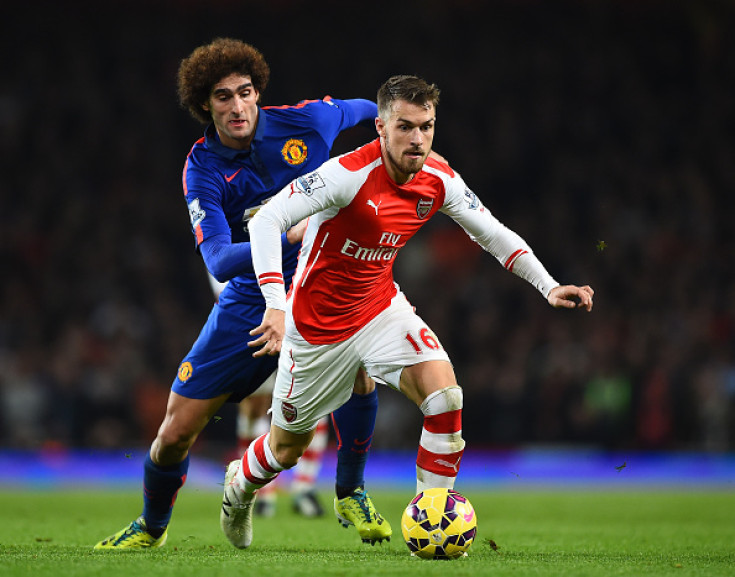 Aaron Ramsey has revealed that Arsene Wenger's reputation of developing young players convinced him to snub Manchester United for Arsenal.
The Welsh international was one of the brightest prospects at Cardiff City and was attracting interest from the Premier League clubs in 2008. The Red Devils had won the Champions League after defeating Chelsea in the final that year under the guidance of Sir Alex Ferguson.
United had agreed a fee with Cardiff for the then 17-year-old midfielder's services and the same was confirmed on their official website. However, he rejected the chance make the switch to Old Trafford and completed his move to Arsenal in 2008.
"He likes to get young kids with talent and natural ability and turn them into world-class players. He's done that on many occasions in the past - he'll continue doing that," Ramsey told ESPN.
"His experience, knowing how to deal with [young players] is quite remarkable. He gets his satisfaction from seeing them develop as a player -- and as a person as well -- and gives them information on the pitch, and opportunities to go out there, play, and express themselves."
The 24-year-old has struggled with injuries in the first few seasons at the Emirates. However, he has bounced back in the last two seasons and has been a key player in the Gunners' side, despite few injuries.
Ramsey hopes to be fit for the new season and has set his sights on playing in his preferred central midfield position rather than the right side of the midfield.
"I had a few injuries which disrupted things, and it's quite difficult to get your rhythm and get your consistency, because you're stop-start and takes you a few games to get into it again," he explains," the Welshman explained.
"I much prefer playing in the centre of the park, that's where I feel comfortable. I like to be involved as much as I can in the game, and in the middle you're definitely the heartbeat of the team. When you're on the right, you can go minutes without seeing the ball, and that's a long time when you're out on the pitch."