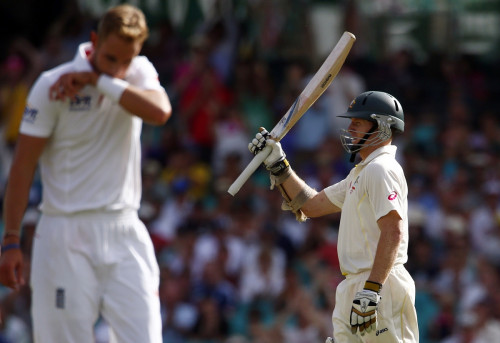 Australia are en-route to completing a whitewash as England folded up their first innings for just 155 runs on day two of the last Test in the Ashes series. The hosts lead by 311 runs after scoring 140 runs in their second innings, losing four wickets in the process.
England began the day with Alastair Cook (7) and James Anderson on the pitch. Ryan Harris dismissed the skipper for a leg before wicket in the second ball of the day. Anderson (7) then edged Mitchell Johnson's delivery towards Michael Clarke at second slip.
The visitors struggled to add runs to their tally as wickets leaked in the opening hours of the day. A collapse seemed inevitable as Kevin Pietersen (3) edged the ball to Shane Watson at the first slip. Ian Bell (2) too followed in his footsteps with Peter Siddle delivery slightly touching his bat before flying on its way to Brad Haddin behind the stumps.
Gary Ballance (18) got a thin edge for Haddin to pounce on the ball from Nathan Lyon's delivery. Siddle struck twice to dismiss Stokes (47) and Jonny Bairstow (18) even as they dragged England beyond the 100-run mark. The wicket-keeper batsman pushed Siddle's delivery towards mid-on into the grateful hands of George Bailey. Stokes followed suit in the same over after being bowled out by the right-handed bowler.
Scott Brothwick (1) attempted to drive the ball straight down the ground but could only get an edge towards Steve Smith at third slip. Stuart Broad (30) and Boyd Rankin (13) pulled the visitors beyond the 150-run mark before Johnson blasted Rankin's stumps to wrap up England's first innings.
Australia started the second innings and lost David Warner (16) and Watson (9) with Anderson claiming both wickets. Clarke (6) walked back to the pavilion after he edged Broad's ball into Bairstow's hands. Smith (7) could not replicate his first inning performance as he edged the ball towards Cook at the slips from Stokes' bowling.
Chris Rogers knocked 73 before the end of the day's play to ensure the hosts have the upper hand.