Alastair Cook has heaped praise over his teammates for England's 3-0 Ashes success over Australia. The Three Lions skipper lifted the Ashes urn after the fifth and the final test at the Oval ended in a draw, with bad light forcing the game to halt with 21 runs needed from four overs.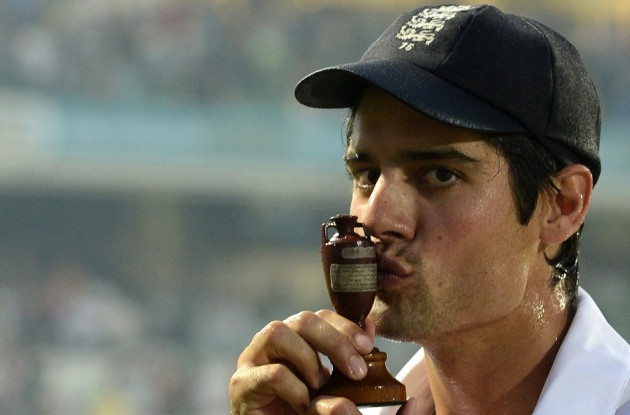 "It's an incredible feeling. At the beginning of the series, a lot of questions were asked of this England team. Would we be able to handle pressure of being favourites? Would we be able to live up to that expectation?" Cook told BBC.
"To be able to deliver under that, I think we can have a good beer tonight and enjoy some very special scenes in the dressing room. It is what dreams are made of," England captain added.
England extended their first score from 247/4 to 377 on the final day, with Australia coming to bat having a lead of 115 runs. The visitors added 106 to their first innings lead, leaving the Three Lions with a target of 227 to win the game.
Cook saw his side on attacking mode in their run chase after Jonathan Trott (59) and Kevin Pietersen's (62) knock put England in a comfortable position. However, the game took a dramatic turn when the umpires ended the match due to bad light, with four overs remaining in the day's play.
The left-handed opening batsman was disappointed after his side's was not allowed to seal their fourth win of the Ashes series. However, Cook went on to admit that he did understand the officials' stand as they took the "emotions out of the game."
"Unfortunately officials sometimes have to take the emotion out of the game. They have got to do their job and be fair to be both sides," Cook said.
"It's disappointing to be sitting here when we thought we had got ourselves in a position to win, but I understand the umpires' decision, why it happened and if the ball was on the other foot we would have been asking the same question [as Australia]," he concluded.