Stuart Broad on His Ashes Teammates and if this is England's Greatest Test Team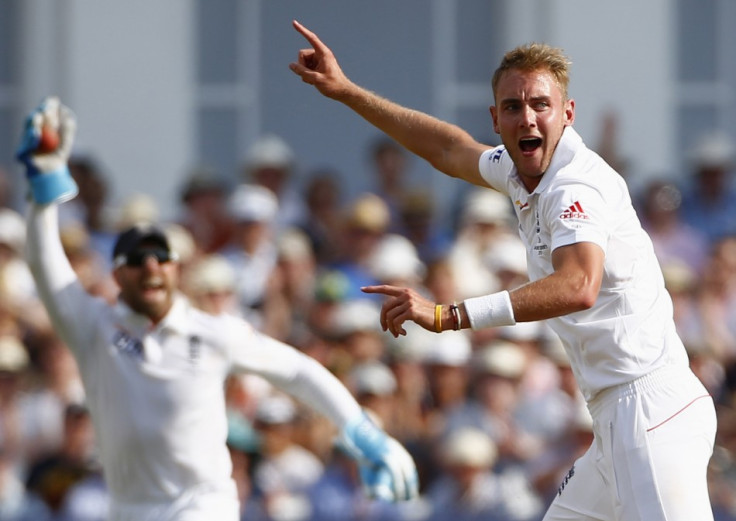 Stuart Broad has already enjoyed a great deal of success in his relatively short international career. The England fast bowler made his Test debut back in December 2007 against Sri Lanka and few could have guessed that less than six years later he would have more than 200 Test wickets to his name and a best score of 169.
Add to this his performances out in the West Indies as England won the ICC World Twentty20 tournament, his two man of the series awards, one Test hat-trick and eight five-wicket hauls, and the 27 year old can already rival some of England's finest bowlers.
He has played a major role in England winning a home and away Ashes series, and this summer, despite failing to find his best for with the ball, has been instrumental in helping Andy Flower's side retain the urn with two Test matches still to play.
As England prepare to face Australia once again up in Durham on Friday, Broad took some time out of his busy schedule to discuss his England teammates and ponder the question - is this current Test team the best this country has ever produced?
Q: Michael Holding has recently said that the current England team is the best England team he's ever seen. What are your thoughts on that and how do you think the current team compares to the team of '05?
SB: I suppose he's saying that because of the success we've had in the last 4 or 5 years, we've won a lot of Test match cricket so he's right to say that we're a good team. We've got guys who have scored some of the most hundreds for England in the likes of KP and Alastair Cook and we've got guys who've taken a huge amount of wicket as well. Sometimes it's quite hard in England to say that we're a good side because of our culture but we've done really well.
I don't think you can compare it to '05 particularly as they're slightly different eras and the make-up is slightly different, for example with Fred they had four seam-bowlers. We've had some great success and our Test wins on the bounce against Australia highlight how strong we are at the moment.
Q You have played alongside fellow fast bowler Jimmy Anderson for a number of years know, where do you think he ranks in the all-time greats and do you think he'll break Sir Ian Botham's record?
SB: Jimmy's had an unbelievable two to five years really, to have gone past 300 wickets is very special and he's still 31 so he's got plenty of time left in him. He keeps himself fit and with the quality of bowler he is I've no doubt he'll become England's leading Test wicket taker. He's already the all-time wicket taker if you add up all the international wickets so I'm pretty sure he'll be the first English bowler to 400 wickets for sure.
Q: As a bit of an all-rounder yourself you've probably got a lot to share with Joe Root. How good do you think he is and how much of an influence on him have you been?
SB: Rooty's very good, most important of all he's got a sound head on his shoulders and being able to keep calm in international cricket is exactly what you need. He's obviously a fantastic player with that but he deals with the pressure of international cricket really well.
His bowling's an added bonus and especially in this series so far with the wickets turning as much as they have been he could be very useful when we need to go double-spin or if Swanny needs a break. I think his wickets are a bonus to the side but most importantly his 180 helped to set up the Test match at Lords. Being 33-3 we were in trouble and he showed a calm head and he'll be delighted with his contribution and we're hoping to see a lot more of him not just in this series but for many years to come.
Q: Who's the best player you've played with for England?
SB: The best player I've played with would be Graeme Swann, just because England hadn't really had a wicket-taking spinner for so long and he came in and showed that regular finger-spinners can take wickets in international cricket. There have been a lot of spinners take wickets who've been quite unorthodox but Swanny is an orthodox off-spinner and he's had huge success. He's brought an amazing balance to the England side in that he can take wickets on the first day of a Test match which is quite different so a lot of our recent success in the last 4 or 5 years has been down to the balance he brings to the team.
Q: And finally what's been your lowest and highest points in cricket?
SB: Probably both in Ashes series really. Any injury is quite tough to take but I tore my ab in Australia after two Test matches when we led the series 1-0 so going home from there was tough to take. I think as a fast bowler and as a sportsman you have to look to your next goal though so I got over that injury pretty quickly to get fit for the World Cup.
Highlight probably has to be the 2009 Ashes win at the Oval to take 5 wickets to help the side win the Test match was a massive highlight of my career and probably a bit of a kick-start to my international career so I always look back to four years ago with very fond memories.
Interviews courtesy of AskMen.com, the UK's most popular male lifestyle website. For more great cricket content read their full interview with Stuart Broad here: http://uk.askmen.com/sports/fanatic/stuart-broad-interview.html
© Copyright IBTimes 2023. All rights reserved.