The Football Association have labelled the racist abuse of Ashley Cole and Ashley Young 'unacceptable' following England's penalty shoot-out defeat by Italy in the European Championship quarter final on Sunday.
Young and Cole both missed penalties as England crashed out 4-2 in the penalty competition, after a goalless 120 minutes in Kiev.
The failures from the spot, and England's subsequent exit, sparked several racist messages from one user on Twitter towards the pair, which are being investigated by police.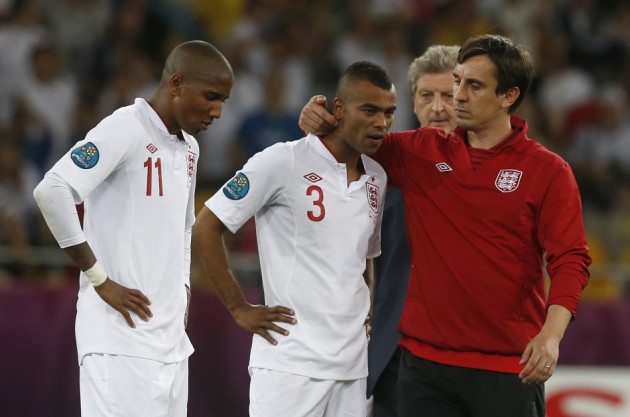 A Metropolitan Police statement said: "We are aware of alleged racist comments on Twitter following last night's England game and have launched an investigation.
"The allegation was made to MPS on June 25 by a member of the public relating to comments on a Twitter account supposedly based in London.
"No arrests at this early stage.
"The MPS is examining possible offences under Section 18/19 Public Order Act 1986."
An FA statement read: "We are concerned at the reports regarding allegations of abuse aimed at England players Ashley Cole and Ashley Young on Twitter.
"They have just given everything for the national team at Euro 2012 and it is appalling and unacceptable that messages of an abusive type are being posted.
"We support any police investigation in identifying who is behind this."
With Young hitting the crossbar and Cole seeing his effort saved by Gianluigi Buffon, England crashed out of a sixth major tournament via a penalty shoot-out, with the pair being singled out for criticism by one user on the social media site.
The user was bombarded with replies to his messages, but said: "All I got to say is this was just a joke, you guys need to relax, police know i was kiddin around and they won't bother me hopefully, cheers.
"The police won't bother me mate i can assure you that," he added.
A police investigation mirrors the inquiry surrounding the tweets from student Liam Stacey, who was jailed for 56 days after he sent offensive tweets concerning Bolton Wanderers midfielder Fabrice Muamba, after he collapsed during an FA Cup tie against Tottenham Hotspur in March.