A group of international cricketers, including former England spin bowler Ashley Giles, have set a world record for playing a match at the highest altitude. The game was played at a height of 5,730m (18,799ft) in a flat crater just below the summit of Kilimanjaro, Africa's highest mountain.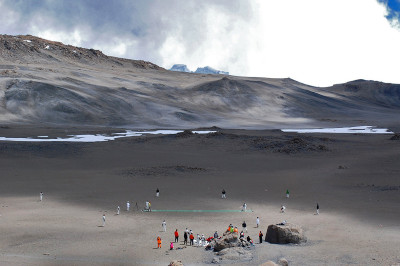 The two teams managed to play 10 overs each of a Twenty20 game before clouds stopped play. The Gorillas team, led by England women's vice-captain Heather Knight, scored 82 runs for five wickets to beat Giles' Rhinos team, who managed 64 for nine.
The previous record for the world's highest game was 5,165m, played at Everest base camp in Nepal in 2009.