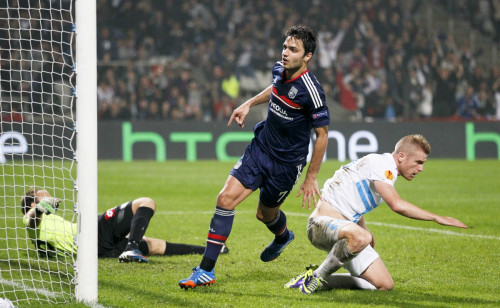 Newcastle United manager Alan Pardew will stage a late trolley-dash in the January transfer window after owner Mike Ashley sanctioned the club's pursuit for a replacement for Yohan Cabaye – with a 'substantial' bid having already been lodged for Lyon midfielder Clement Grenier.
Cabaye will be unveiled as a Paris Saint Germain player on Wednesday and the Toon have moved quickly in order to secure a replacement in the final three days of the window.
Having previously been frugal in the transfer market, Ashley has seemingly given the go ahead for Pardew to replace the influential Cabaye, who has scored seven Premier League goals for Newcastle this season and joins Ligue 1 champions PSG for a reported £20m.
Grenier has been linked with a move to St James' Park through the January window and Newcastle have reportedly lodged a bid for the France international in order to fill the void left by Cabaye.
Speaking after the goalless draw with Norwich City, Pardew said of launching a bid for a replacement: "Well I hope so.
"I was obviously on the phone to the powers that be, particularly Joe and Mike and Lee Charnley and Graham Carr.
"Let's get moving and see what we can get because we obviously had one or two targets we had earmarked if he went. We're chasing those down."
"We have to use that money wisely now - like we did with Andy Carroll," Pardew added. "That summer we brought in Yohan and a couple of others that took us forward.
"That is how we will have to break into the Champions League and use this money to good effect and make us better."
Though Grenier, who has previously been linked with a switch to Arsenal, has no ambition of moving to the Premier League the size of Newcastle's offer could force the hand of Lyon presient Jean-Michel Aulas.
On Newcastle's reportedly interest, Grenier said: "I have only just learned about interest from the press, like you.
"I have no idea what can be said or done at this time. At one point, the president said that if a good offer is made for me this winter, he would look at it.
"I do not know if he received an offer or not and I'm not at all thinking about it.
"For the moment, it is not in my head. I have goals with Olympique Lyonnais for the end of the season, in the short term. I focus on it.
"The World Cup is one of my goals. It is in a small corner of my mind. Is it better for me to stay in Lyon? For the moment, yes. There are still many goals for me with Lyon."