US actor and human rights campaigner Ashton Kutcher called for end of child sexual exploitation as he testified at a senate hearing on Wednesday (15 February).
Kutcher was speaking at Ending Modern Slavery hearing at the Senate Foreign Relations Committee in Washington. He was there on behalf of Thorn - an organisation that develops software to locate victims of abuse.
The actor and tech investor co-founded Thorn with his then-wife Demi Moore in 2009. The organisation builds software to fight human trafficking.
He urged the US lawmakers, "society and government" to defend the vulnerable and added that he had been exposed to things "no person should ever see".
"The right to pursue happiness for so many is stripped away, it's raped, it's abused, it's taken by force," the 39-year-old No Strings Attached actor said.
During the hearing, the actor revealed how his anti-trafficking work had extremely affected him saying, "As part of my anti-trafficking work, I've met victims in Russia, I've met victims in India, I've met victims that have been trafficked from Mexico, victims from New York and New Jersey and all across our country".
"I've seen video content of a child that's the same age as mine being raped by an American man that was a sex tourist in Cambodia. And this child was so conditioned by her environment that she thought she was engaging in play," the father of two said.
Kutcher also discussed the importance of technology to combat trafficking and exploitation. He added that technology can be used to prevent websites from carrying adverts promoting the sexual exploitation of minors.
"Technology can be used to enable slavery, but it can also be used to disable slavery," Kutcher said, adding: "Can we build the tools that are better than their tools to fight what is happening?"
He even talked about one of the tools – Spotlight – that his organisation had created and how it helped them identify 6,000 victims in six months. Spotlight was made after a 2012 survey, which found that 63% of underage victims were being bought or sold online, the BBC reported.
Kutcher added that his organisation had been approached by authorities to help track perpetrators.
"We were the last line of defence - an actor and his foundation. That's my day job, and I'm sticking to it," the actor said.
The chairman of the Committee, Senator Bob Corker, called Kutcher's work "inspirational", and "a true testament to entrepreneurialism and people taking a risk toward social good".
"Thankful for Ashton Kutcher and the work @thorn is doing to rescue trafficking victims. It was great to have him on the Hill today," Corker tweeted.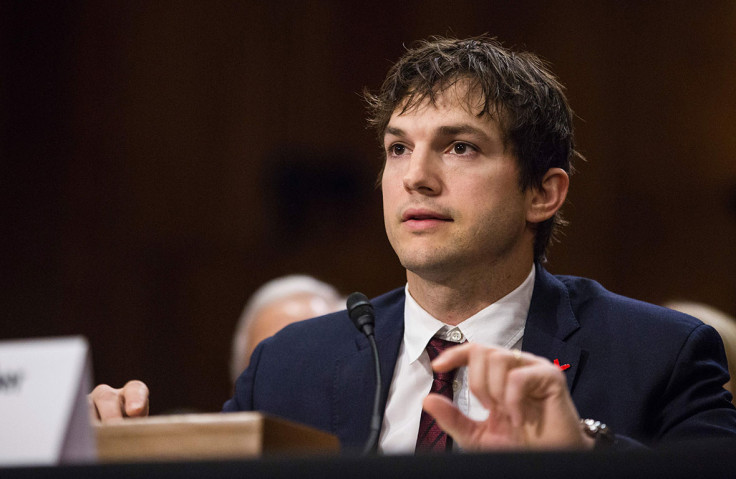 However, at the end to lighten up the environment, which became serious during the hearing, Senator John McCain – who was not a member of the committee – addressed Kutcher, saying, "Ashton, you were better looking in the movies". McCain had come to the hearing to thank the committee members for their dedication to the issue.
Responding to McCain's comment, Kutcher blew the senator a kiss, saying his wife thought so, too.