China's foreign ministry has warned Washington, demanding that its Pacific Command and Navy back down from sending warships to conduct freedom of navigation in the disputed waterways. It has reacted angrily after reports emerged that the US is planning to challenge Beijing's sweeping claims over territories in the South China Sea.
Geng Shuang, China's foreign ministry spokesman, said that Beijing has worked hard along with other Asia-Pacific nations to ease tension in the region and restore peace. He urged foreign countries, especially the US, to not interfere or stoke tensions.
"We urge the US not to take any actions that challenge China's sovereignty and security," Geng told during a regular news briefing on Wednesday (15 February).
China's comments come after the Navy Times reported earlier this week that the US Navy and Pacific Command leaders were considering new strategy to counter the communist country by conducting fresh patrols in the mineral-rich waterway.
The patrols could be carried out by ships with the San Diego-based Carl Vinson carrier strike group, which is already reported to be in the Pacific Ocean, making its way to the South China Sea, three senior defence officials, who spoke on the condition of anonymity, had said.
The US Navy's plan is yet to be approved by President Donald Trump.
"The Carl Vinson Strike Group is on a regularly scheduled Western Pacific deployment as part of the US Pacific Fleet-led initiative to extend the command and control functions of the US 3rd Fleet," Reuters cited Dave Bennett, a spokesman for Carrier Strike Group One, as saying.
"US Navy aircraft carrier strike groups have patrolled the Indo-Asia-Pacific regularly and routinely for more than 70 years," he added.
The warship could likely sail within 12 nautical miles of China's newly built artificial islands, further heightening tensions between the two sides.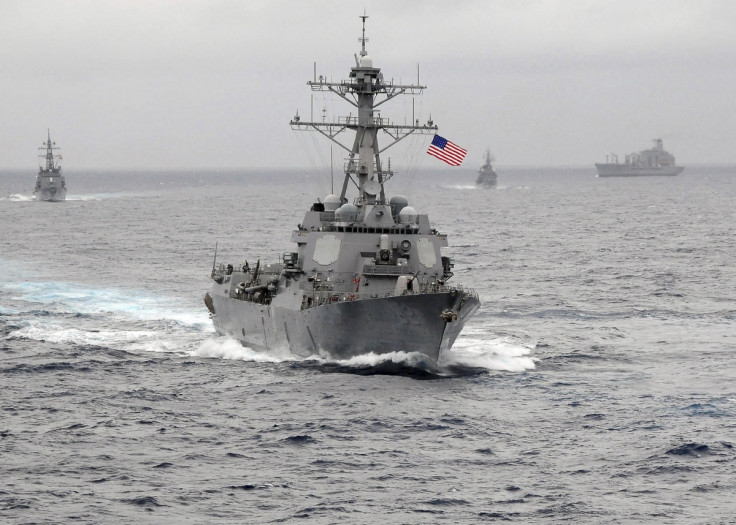 USS Decatur, a guided-missile destroyer, was the last US ship to have carried out a freedom of navigation operation near the Paracel Islands in October last year. The area is claimed by China, Taiwan and Vietnam.
Missile-armed destroyers from Washington are thought to have showed no fear in sailing through the international waters much to the fury of China. For years, the US military has sought a more aggressive approach towards China's claims. However, former president Barack Obama curtailed the navy's operations from 2012 through 2015, reportedly to avoid unnecessary friction.
Beijing has built military-grade runways on the uninhabited islands and reefs in the Spratly Islands.