Two years after the parents of Ashya King sparked an international manhunt by taking him out of hospital to treat his cancer with proton beam therapy, new research suggests the treatment causes fewer side effects than conventional radiotherapy. It also has a lower impact on hearts and lungs, it said.
The study looked at 59 patients between the ages of three and 21, all of whom had the most common kind of malignant brain tumour in children, known as medulloblastoma.
Instead of delivering their radiotherapy using X-rays, proton beam therapy uses charged particles to target the tumour directly. These high energy protons reduced the doses to surrounding tissues and organs and in general cause fewer side effects, the study published in The Lancet Oncology found.
After five years, their survival rates were similar to that of patients treated with conventional X-ray radiotherapy but caused fewer side effects, the peer-reviewed medical journal said.
"Proton radiotherapy resulted in acceptable toxicity and had similar survival outcomes to those noted with conventional radiotherapy, suggesting that the use of the treatment may be an alternative to photon-based treatments [conventional X-ray radiotherapy]," the paper added.
This "has dramatic quality of life improvements", said Dr Torunn Yock of Boston's Massachusetts General Hospital, who led the study between 2003-2009.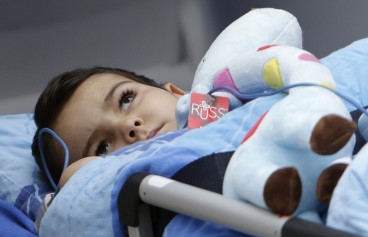 "The major finding is that proton therapy is as effective as photon therapy in curing these patients and what is also very exciting is that it is maintaining these high rates of cure but doing so with less late toxicity," he told the BBC.
Proton therapy can be used to treat spinal cord tumours, sarcomas near the spine or brain, prostate cancer, lung cancer, liver cancer and some children's cancers.
A spokesman for NHS England told IBTimes UK that the treatment will be offered to up to 1,500 cancer patients at hospitals in London and Manchester from April 2018, following investment worth £250m.
Manhunt controversy
Two years ago proton therapy was at the centre a controversy, after the parents of Ashya King removed him from Southampton General Hospital without telling his doctors, so he could undergo the treatment abroad.
Brett and Naghmeh King, who said they did not want him to have conventional radiotherapy, were later traced to Malaga, Spain, where they were arrested. After legal wranglingthey were released and allowed to take him to the capital of the Czech Republic, Prague, for the proton beam therapy.
At the time, Ashya could not swallow and had to be fed through his nose, but his parents believed it was a gentler form of radiotherapy that would have fewer long-term side effects.
Ashya, who was five at the time of his treatment, is now cancer free, his family said in 2015.