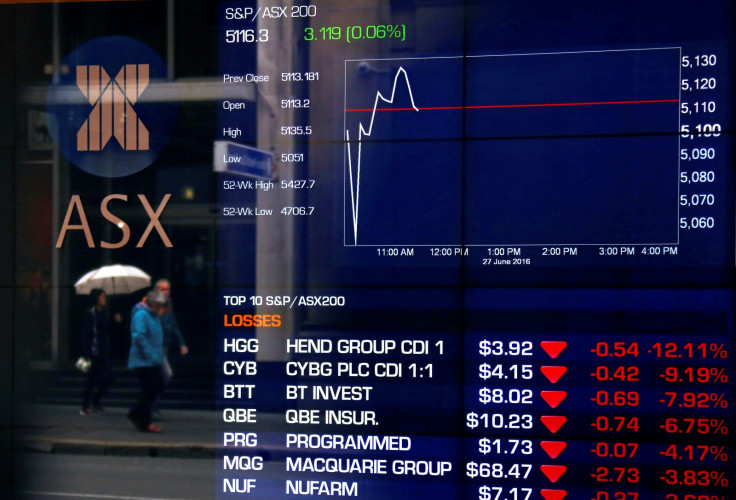 Investors in Asian markets traded pessimistically on Monday (June 5), standing in sharp contrast to the record-high gains registered the prior week.
The terror attack in London on Saturday, which left seven people dead, may have cast a grim sentiment on markets as most of the major indices registered declines. However, investors have not scurried towards stockpiling "safe-haven" assets, with the gold comex index gaining a modest 0.21% and the Japanese yen rose by 0.19% against the US dollar.
Oil prices have experienced a moderate recovery, with the Brent Crude price rising by 1.32% to $50.61(£38.90) per barrel.
The following index quotes were logged on 7:05 am BST:
Japan: Nikkei- Up by 0.12% to 20,201.51
Hong Kong: Hang Seng- Down by 0.18% to 25,876.62
Energy, commodities, and oil and gas firms had performed particularly well, with China Shenhua Energy (+3.66%), CNOOC (+1.34%), and China Resources Power Holdings (+0.50%) registering the strongest gains within the index.
Li Ka-shing owned Cheung Kong Infrastructure Holdings (-1.68%) and CK Hutchinson Holdings (-0.98%), along with financial services firms Ping An Insurance Group (-1.28%), Bank of China (-1.26%), and China Life Insurance Co (-1.19%) emerged as some of the index's weakest performers.
China: Shanghai Composite- Down by 0.65% to 3,085.199
Data from Caixin revealed that China's services sector PMI rose to 52.8 in May from 51.5 in April. The rise was fueled by accelerated business activity growth.
Australia: S&P/ASX- Down by 0.66% to 5,750
Singapore: Straits Times Index- Up by 0.01% to 3,240.37
India: Sensex- Up by 0.15% to 31,307.44
Data from IHS Markit revealed that India's private sector activity grew at the fastest pace in seven months in May.
The Nikkei India composite output index rose to 52.5 in May from 51.3 in April, while the Nikkei Services Purchasing Manager's Index rose to 52.2 from 50.2 in the prior month.