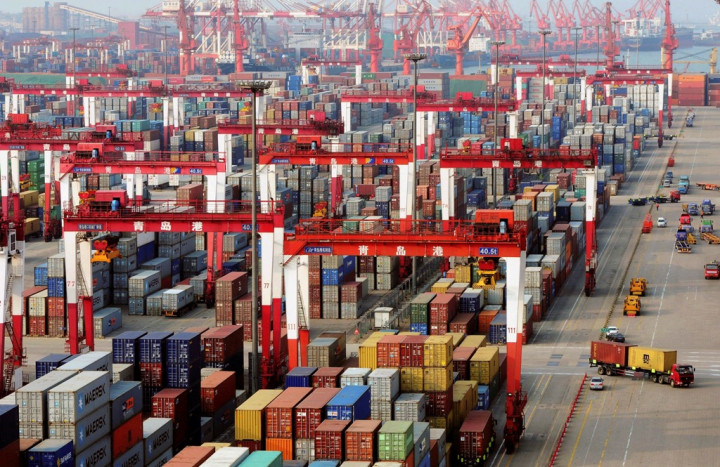 China has become the number one destination for Asian exporters since the global recession and US economic recovery has done little to change that trend.
However, the induced slowdown in China, where economic growth this year could ease to its slowest pace in 24 years, threatens to hurt Asian exporters and their economies.
For example, South Korea's exports to China dropped 9.4% on an annual basis in May, the sharpest fall since mid-2009.
Meanwhile Japan's annual exports tumbled in May, declining for the first time in 15 months, with only a slight gain in sales to China.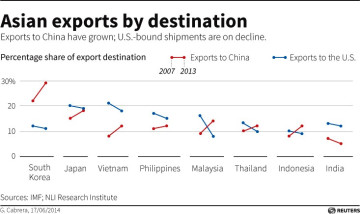 Exports to China from South Korea, Japan, Vietnam, Malaysia, Indonesia, Thailand and the Philippines all grew between 2007 and 2013.
Their percentage share of exports to the US declined during the same period, according to data from the International Monetary Fund (IMF) and Tokyo-based NLI Research Institute.
But Asian exports to China could take a beating with Beijing looking to limit investments in railroads, bridges and airports, in a bid to rebalance Asia's largest economy.
In addition, the weakness in China's own exports could further weigh on shipments from its neighbours such as Japan or South Korea – they provide most of the hi-tech components used in China-assembled smartphones, tablets or computers, Reuters reported.
The IMF estimates that a one-percentage-point decline in China's growth could dent growth in the median Asian economy by nearly 0.3 of a percentage point after a year.
"A recovery in advanced economies should give a tailwind for Asian exports. But if China - the key driver of external demand for the region - lacks momentum, Asian economies could be forced to fly on one engine," Toru Nishihama, senior economist specialising in emerging markets at Dai-ichi Life Research Institute told Reuters.