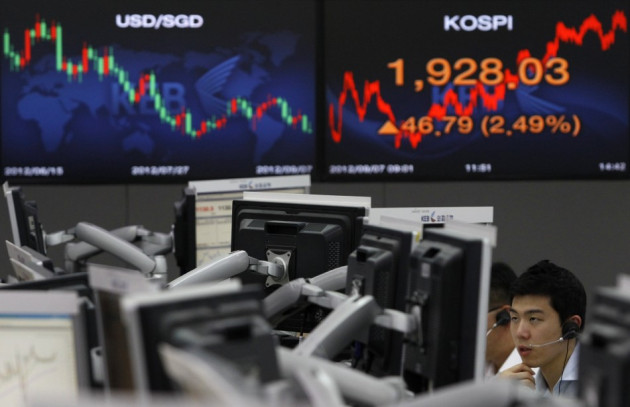 Asian indices outside Japan closed higher after a week that saw mixed reactions from markets as traders remained cautious on the European austerity plans and the Chinese economy along with the dispute with Japan.
Nikkei fell 2.6 percent while South Korea's Kospi slid 0.3 percent in the week. But the Shanghai Composite Index climbed 2.9 percent to 2,086.169 while the Hang Seng added 0.5 percent.
The week started in the red for most markets as encouragement from the monetary easing measures from the US Federal Reserve, the European Central Bank and the Bank of Japan faded. Investors were also wary of the implementation of the proposed bailout packages in Europe.
The sentiments were further low after reports from Germany said that manufacturer's confidence in the country fell in September. Caterpillar, the world's largest earth moving equipment maker, cut its revenue expectations for 2015 citing global economic slowdown. Adding to the concerns, the International Monetary Fund hinted that it may cut global growth forecast in its October report.
Reports of disagreement between France and Germany over the proposed banking union for Europe also weighed on investor reactions. Lawmakers warned that the creation of such a bank could lead to a split within the European Union.
The markets fell further after violent protests against the government's proposed austerity measures erupted in Spain, raising unease over the country's ability to control its financial situation. ECB's Mario Draghi added more worries as he suggested that the ECB financial easing was only a "bridge" and that it was up to the governments to come up with more individual or collective action to revive the economy.
Protests during a general strike called against more austerity measures in Greece put more pressure on the bourses.
The territorial dispute between China and Japan continued to affect the markets as well. Worries of the dispute affecting trade relations increased after major Japanese automobile firms announced plans to reduce output in the Communist nation.
Shares of Japanese auto majors took a hit as Nissan Corp fell 5.1 percent while Toyota slid 5 percent in the week. Honda Motors tumbled 7.8 percent.
However, most markets gained on better performance from Chinese shares following reports that the country's central bank provided massive financial support to its banking system. The Bank of China is reported to have injected 365bn Yuan (£35.9bn) into the money market.
Traders were further encouraged after Spain presented its 2013 budget with 8.9 percent ministerial spending cuts and a freeze on public sector pay for the third consecutive year, aiming to save 13 bn Euros (£10.3bn) .
Reports from Greece were also encouraging as the coalition government said that it had reached an agreement over austerity measures after weeks of wrangling. The possibility of a bailout for Spain and Greece cheered the markets as well as investors looked to measures to revive Europe's flagging economy.