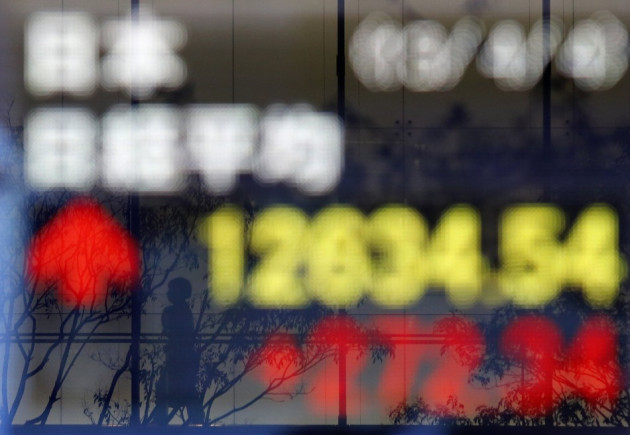 Asian markets have fallen as mining stocks suffered from lower commodity prices that also pulled down US and European equities on renewed concerns about the growth in the global economy.
Japan's Nikkei Stock Average declined 0.4 percent or 53.53 points to 13,329.4, while South Korea's KOSPI fell 0.7 percent or 19.33 points to 1,906.6. Australia's S&P/ASX 200 declined 0.7 percent or 36.76 points to 4,970.8.
The Shanghai Composite index dropped 0.1 percent or 1.87 points to 2,192.7 and the benchmark Hang Seng fell 0.1 percent or 15.53 points to 21,540.6.
US stock market indices declined earlier after disappointing corporate earnings reports from companies, including the Bank of America and Textron Inc Apple, the iPhone maker, fell below the $400 (£261, €305) mark for the first time since late 2011, after its key supplier Cirrus Logic projected poor revenues. The world's largest semiconductor maker Intel had forecast a sharp decline in its current quarter revenue and cut its spending plans.
European markets also suffered a fall after a 10 percent decline in car registrations weighed on copper prices that slumped more than 3 percent. Copper futures dropped by most in a year, hitting the shares of raw-material producers. Further, oil prices declined on fears that rising US fuel supplies would dent global oil demand.
The political uncertainty in Italy also pulled down European shares. The country's divided parliament will start voting to select a new president on Thursday.
Earlier this week, the International Monetary Fund cut its global growth forecast as Europe sinks deeper into recession.
Meanwhile, gold prices remained vulnerable, declining 0.2 percent at $1,373.51 an ounce in early trade.
Japanese stocks fell after the yen advanced against the US dollar for the first time in three days. The country posted its ninth-straight monthly trade deficit in March, though the gap was narrower than expected and smaller than February's result. On a year-over-year basis, exports rose by 1.1 percent, while imports increased 5.5 percent.
"Japan will have to continue to buy large amounts of commodities, particularly energy, from overseas. In the meantime, any boost to the competitiveness of Japan's exports is still being largely offset by the fragility of the recovery in the global economy," economists at Capital Economics said in a research note.
Australian miners suffered from sharp drops for copper futures, spot iron ore and other commodities overnight.
Foreign direct investment in China rose 5.65 percent in March from a year earlier, compared to the 1.44 percent average increase over the January-March period.
Major Movers
Nikkei's Tokyo Electric Power shed 4.3 percent, Sumitomo Metal Mining declined 2.4 percent and consumer goods company Pioneer fell 1.9 percent.
In Australia, shares of mining giant BHP Billiton retreated 2.8 percent, while those for Rio Tinto lost 2.9 percent. Fortescue Metals Group dropped 3 percent and Newcrest Mining fell 2.9 percent after gold futures extended their losses in New York trade.
China-based auto parts maker, NBTM New Materials Group, fell 4.5 percent, and Korea's computer manufacturer Jooyontech fell 9.9 percent.