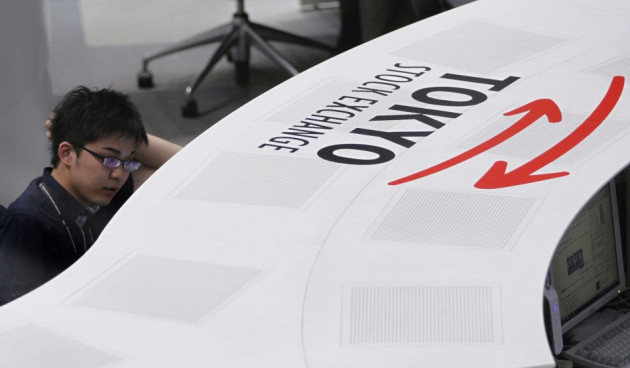 Most Asian markets have moved up after opening on a weak note ahead of the Spanish government's budget announcement along with economic reforms that may include austerity measures to control its finances.
Protests in Greece against the government's proposed austerity measures also weighed on investor sentiments as the markets opened. Reports from Reuters suggested difference of opinion between the IMF and the EU regarding the country's bailout package, increasing concerns of a recovery for the eurozone.
The Nikkei was down 0.03 percent or 3.04 points to 8903.66 at 3:57 GMT while South Korea's KOSPI rose 0.10 percent or 1.96 points to 1,982.40.
Hong Kong's Hang Seng gained 0.60 percent or 123.15 points to 20650.88. China's Shanghai Composite Index was also higher by 0.40 percent or 8.01 points to 2012.18.
The markets have seen mixed reactions over the week as analysts suggest that the concerns on the European crisis tend to keep traders discouraged even after short bursts of enthusiasm on positive action from the authorities.
"The main focus for investors globally is once again Europe, with Greece and Spain remaining the main concerns," said Jason Hughes, Head of Premium Client Management at IG Markets, Singapore.
"Neither seems able to do enough to put its house and mountains of debt in order, and most developments have not appeased markets for long. Once again, as has often been the way, the bond yields paint the picture perfectly," he added.
Engineering machinery manufacturer Furukawa Co and marine transportation company Kawasaki Kisen Kaisha were the major gainers in Tokyo, higher by 4.29 and 4.17 percent respectively.
In South Korea, furniture and household items maker Enex Co gained the most, by 14.92 percent, followed by semi conductor testing device manufacturer DI Corp, higher by 13.51. Publishing firm Woongjin Thinkbig Co continued its losing streak remaining lower by 14.95 percent.
In Hong Kong COSCO Pacific and Sun Hung Kai Properties performed the best gaining 1.32 and 1.25 percent respectively. Shares of China COSCO Holdings Co and Sinolink Securities were the major gainers in Shanghai, increasing 5.34 and 3.98 percent.
Meanwhile, the Bank of Korea said that the manufacturer's confidence in the country rose marginally in September from the previous month, but remained near the lowest since 2009. The slowdown in China and the low demand in Europe have crippled the country's export sector.