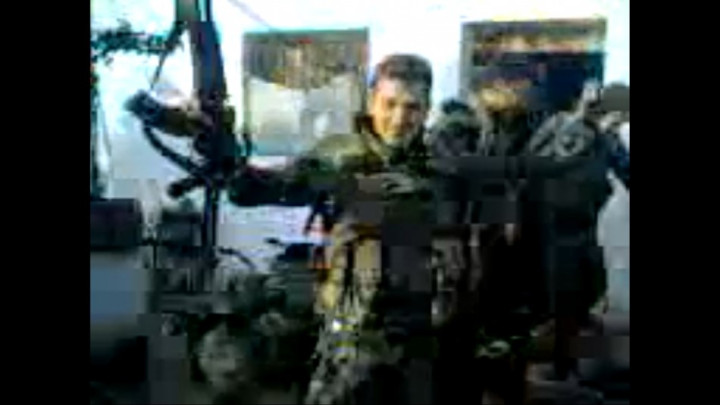 Graphic video footage of Syrian soldiers celebrating over the bodies of dead civilians have surfaced as UN monitors finally got through to the farming village of al-Kubeir in Hama where up to 100 civilians were massacred on Wednesday.
The UN observers were prevented from getting into al-Kubeir, which has a population of 150, by Syrian forces and residents from nearby villages.
The Al-Kubeir massacre provoked yet another wave of international condemnation with UN Secretary-General Ban Ki-Moon declaring the Assad regime had "lost its fundamental humanity" and legitimacy.
Almost 100 civilians died in the attacks including dozens of women and children.
Ban told the UN General Assembly that the monitors had been shot at as they tried to pass army checkpoints.
The BBC's Paul Danahar, who is with the UN convoy as it enters al-Kubeir, reports on Twitter that UN observers have not found any people but have seen burnt-out houses and buildings holed by rocket-propelled grenades.
"The largest of the two houses on the hilltop in Q[K]ubeir has been gutted by fire. The stench of burnt flesh is still strong," he tweeted. "In front of me there is a piece of brain, in the corner there is a mass on congealed blood. This is a house in Q[K]ubeir."
In a separate development, a very disturbing online video allegedly shows Syrian soldiers and pro-Assad militiamen known as the Shabiha cheering and laughing amid a group of corpses.
On film, they drag the bodies into a building to burn them. The video is believed to have been filmed in Hammameh, Idilb, on 21 March.
A partial translation by the Guardian suggests that the soldiers were cursing and insulting the dead for being infiltrators or followers of Syrian Salafi cleric Adnan Al-Arour.
Syrian users noticed that the military had Alawite accents.
Andy Carvin, senior strategist at National Public Radio in the US, said: "This may be one of the most important videos to come out of Syria."
Here is the partial transcript:
0-30s: "This one was kidnapped ...the brother of a f****r ..have patience, have patience. Damn your God, you brother of a whore."
30s-1min: "Have patience, have patience.. Salute (go ahead) Ibrahim. [Saluting another soldier] Come, let's go to the car. You are a hero! Take this [video it], this is going to be the best one.
1:04: "This is an infiltrator [while putting shoe on face], you brother of a whore. This one is an 'Ar'our [ie, a group of Islamists/Salafists]."
1:30: "Let's go."
2:00: "13 people, Ali, 13 people."
2:18: "Let's go Ibrahim." Other man is cursing
2:51-3:15: "Give me that, Ali the best, Aloush (nickname for Ali) the monster [ie, the hero here], Aloush." [While he's putting the bodies in the building].
3.35: "May God make you live."
3:53-4:00: "Let us finish and go. The sons of the whores have weapons, they can attack us."
4:00- 4:30: "Get him in, get him in. Yalla, leave him here to be shot and it's done."
4:40: "Let's go men, let's go."
5:00: "Allah Akbar [God is great], hayou [salutes]." Sounds of bullets/loud banging.
5.14: "Stop, it's enough"
6:00-6:30: "Allah hayou, remove this brother of a whore."
6:30-9:20: Black screen with unclear conversation but in the middle they say "13, stop ...did you put them all inside? Hold on, there are some left [other bullets fired]...Come on guys, quickly"
9:20-10:00: "This is Ferky, the brother of a whore." Goes to the body and continues cursing him..
10:14: "God is great, men."
13:25: "Don't film."
13: 38: "Stay for a moment to film [whispering]."
14:10 -14:30: After explosion. "Allah akbar, hayou. Another one, another, Get the benzene. Burn you brothers of f*****s."
14.36: "The tanks just arrived."
14:40: "Allah Hay (God is alive)
14.44: "Syria is great."
Despite international outrage, diplomatic efforts are still focused on the six-point peace plan drawn up by UN-Arab League joint envoy Kofi Annan.
While admitting his plan was not being implemented, Annan called for continued support and was backed by Ban and Arab league chief Nabil Elaraby.
The Secret of the Alawites: Ghosts and Beasts Stalk Assad's Syria